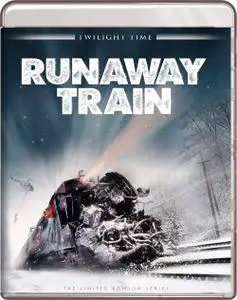 Runaway Train (1985)
BDRip 1080p | MKV | 1920x1040 | x264 @ 18,5 Mbps | 110 min | 15,46 Gb
Audio: English DTS 2.0 @ 1509 Kbps | Subs: English (embedded in MKV)
Genre: Action, Adventure, Thriller
Director:
Andrey Konchalovskiy (as Andrei Konchalovsky)
Writers:
Akira Kurosawa, Djordje Milicevic (screenplay), Paul Zindel (screenplay)
Stars:
Jon Voight, Eric Roberts, Rebecca De Mornay
Philosophical action thriller about two escaped prisoners who hide on board a train speeding through Alaska. The driver suffers a fatal heart attack and the train races out of control through the icy wilderness. With the railroad signalmen unable to stop it and a vindictive prison warden desperately pursuing them by helicopter, the train's passengers look set to face disaster. Based on a screenplay by Akira Kurosawa.
IMDB
- Nominated for 3 Oscars
The stock title promises action and suspense, and we get that, but with a story by Akira Kurosawa, expert direction by Russian émigré Andrei Konchalovsky and superior lensing by Alan Hume, we get a study of what defines a man.

John Voight and the vastly underrated Eric Roberts play two cons who escape from a hellish gulag and board a train with no driver. Their struggle to stop the train and battle their own inner demons is the movie.

Konchalovsky creates a cold, alien, ethereal world inside the train that, in the oddest way, provides a haven for self-examination for the two leads. Rebecca de Mournay is layered into the mix, as is the indefatigable John P. Ryan as a prison warden who risks death to return his charges to custody, but the movie belongs to Voight and Roberts who both bring tremendous humanity to their finely sketched characters.

The final image is as powerful as cinema gets and marks RUNAWAY TRAIN as a modest masterpiece.
(click to enlarge)

More in My Blog