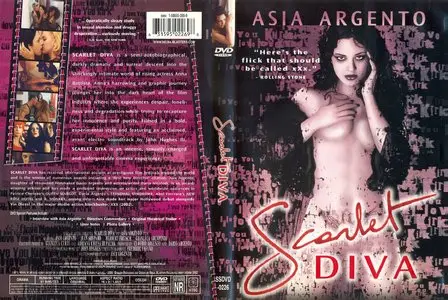 Scarlet Diva (2000)
DVD9 | VIDEO_TS | NTSC 16:9 | Cover | 01:30:19 | 6,86 Gb
Audio: Italiano AC3 2.0 @ 192 Kbps + English Commentary | Subs: English
Genre: Drama
Director:
Asia Argento
Writer:
Asia Argento
Stars:
Asia Argento, Jean Shepard, Herbert Fritsch
Anna Battista is a young, popular, 24-year-old Italian-born International film actress who engages herself on a hectic and self-destructive spree which takes her across Europe and to America to shed her "boy-toy" image to become an "artist" in order to write and direct herself in a semi-biography movie of herself titled "Scarlet Diva." After working in Rome, and winning a presigious film award in Milan, Anna travels to Paris to save her best friend from an abusive relationship, then avoids sleazy film producers in Los Angeles, meets and falls in love with a rock star who abandons her, finds out later that she's pregnant, and begins using drugs to numb her pain at this predictament she's gotten herself into.
Scarlet Diva begins with a video introduction by director, writer, and star Asia Argento (daughter of giallo specialist Dario Argento), in which she says that the film "saved my life." Well, after a statement like that, the viewer is going to be very interested in what follows.

But Scarlet Diva is going to defy expectations.




Like most people, I first heard about Scarlet Diva in a sidebar to a profile of Asia (pronounced "AH-zhe-ah") published to coincide with the release of xXx. The sidebar made the film sound hot, showing Argento leaning over a hog-tied blonde as if to indicate that the sexually rapacious character she plays has a submissive lesbian love slave on the side.




Scarlet Diva was released in May 2000, and went on to win an award at a New York City film festival. But much has changed since then. Argento has given birth a daughter via a fellow named Morgan, a member of an Italian band called Bluvertigo. Rolling Stone, however, seemed to indicate that Argento was dating, if that is the word these days, 53-year-old xXx director Rob Cohen. Current release of the film on DVD bespeaks the heightened interest in the actress due to xXx.




Argento plays young international movie star Anna Battista. We first meet Anna in Rome, where Anna, in stockings and heels, is in her trailer having rear entry sex with a rap star just as an AD comes to fetch her for a shot. An immediate flashback takes us to her youth, where she has problems with her drug addicted actress mother (played by Argento's real mother, Daria Nicolodi) and where she also often watches her brother Alioscia seduce girls.

On the road promoting a film, she runs into some persistent and lecherous fans in a truck stop on the way to Locarno for a video interview with a touchy-feeley and rather ridiculous older man.




Next stop is Paris, where, like everywhere else, she drives herself around alone, without an entourage (Anna considers herself the loneliest girl in the world). She arrives at the apartment of her friend Veronica (Vera Gemma, from The Stendhal Syndrome) to find her hogtied nude on the bed, where she has been for two days after a fight with her abusive boyfriend, Hamid. They go looking for Hamid on the streets of Paris without luck, though Anna gets to kiss a few crack dealers. Their search is pointless, for Hamid comes home anyway, just as Anna is arguing that Veronica should dump him. His arrival leads, after a good solid smack to Veronica's mouth, to sex, which Anna views as she stomps out of the apartment.




Anna goes to a rock club and sees a Kurt Cobain style American pop star ("This illusion is forever") named Kirk Vaines (Jean Shepherd in his sole film so far). They make eye contact, and end up having sex in his hotel room.

Back at her apartment, she draws in her diary, pines for Kirk, and then has sex with a large-breasted blonde woman named Quelou (porn actress Luce Caponegro Selen), a sudden arrival of mysterious origin who leaves in a taxi after ravishing Anna on the couch.

In an interlude, Anna is shown shaving her armpits, then has a flashback, and then gets sick on a ferry. Realizing that she is pregnant she has a symbolic nightmare.




After an awards ceremony, she is approached by an American producer with a goatee named Barry Parr (Joe Coleman) who is setting up a movie called Cleopatra's Death with Robert De Niro, to be directed by Gus Van Sant. The amorous producer ends up chasing her down the hotel hallway nude.

Next, Anna falls into a threesome with a female photographer and a guy offering Special K. Later, alone in her room and missing the musician, she burns herself with her cigarette, depressed. Next up is a trip to L.A., where she meets a gay friend and auditions for Cleopatra's Death. She walks out on the ludicrous movie, and ends up in an IHOP with her gay buddy, where they see a wreck of a Hollywood woman whom he says has sex with her dog.




Anna flies back to Europe where she meets a degenerate film director in a houseboat. When Kirk passes through town again, she goes to hear him, but learns that he is married with kids. Running away, she stumbles against some steps, possibly losing her child in the process, but seeing the silhouette of a man who seems to offer some vestige of hope for her shattered life.




Argento, a short story and novel writer as well as director and documentarian, put a lot of personal experience into the story of this film, and adds further revelations in her frank yak track on this disc. Looking like a shorter, darker Uma Thurman ("Uma, Asia. Asia, Uma"), Argento has what David Thomson would call the "sluttier" look of today's stars, but in a sense that makes her more "accessible" or believable to the viewer. Scarlet Diva provides a very unusual entré into the way movies are made and the lifestyles of its young stars (could the movie have been made in America, given the troubles and even deaths of so many actors?), but also has an interesting, subtle philosophical underpinning, and a narrative form driven by Jungian associations rather than point to point plotting. Scarlet Diva is well-worth owning, or at least viewing, by students of acting, followers of actresses, and fans of Dario Argento.




Scarlet Diva is not the film you think it's going to be. Rather than the confessions of a sex-obsessed, out of control prima donna, the film is a cry of pain from a frustrated, sensitive individual who has seen the ravages of the movie industry up close. The film provides unusual insight into the lifestyle while highlighting, in Asia Argento, the talents and interests of a highly unusual and individual filmmaker.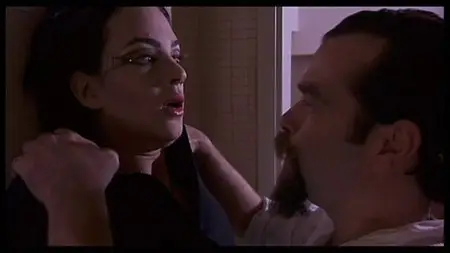 Special Features:
- Audio Commentary by director, writer and star Asia Argento
- Interview with Asia Argento (16:57)
- Photogallery
- Trailers
All Credits goes to Original uploader.