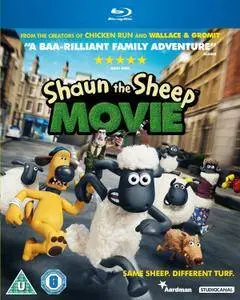 Shaun the Sheep Movie (2015)
BDRip 720p | MKV | 1280 x 720 | x264 @ 2048 Kbps | 84 min | 1,31 Gb
Audio: English AC3 2.0 @ 160 Kbps | Subtitles: English (embedded)
Genre: Animation, Adventure, Comedy | Directors: Mark Burton, Richard Starzak
Shaun the sheep is tired of doing the same work at the farm everyday. He decides to take a day off. In order to do that, he needs to make sure the farmer doesn't know. When more happens than they can handle, the sheep find their way in the big city. Now they need to get back to the farm.
I am a grown male and got the timings wrong to see The Interview and could not be bothered to wait for the next screening so I selected the next film starting.

I have never seen the series, so cant judge if this is a good or bad adaptation all I can say this is a truly funny film though aimed at children is funny enough to keep me entertained.

The animation is uniformly excellent and honestly kept me guessing from the start to the end whether it was CGI or stop motion, I am still not sure even after reading all the credits. Maybe I didn't read them properly because the theme tune is very catchy and bounces round the head even now.

The story is easy to follow, the characters are likable and there is no trite wince inducing dialogue, everything is mumbled by the humans and the sheep communicate in a variations of bahs. There are some cracking running gags and a smattering of fart jokes. The sheep in disguise have to be seen to believed and the viewer would be surprised what goes on with a horse.

The closing credits though long are a fun roll with a funny bit at the end.

Watch it. I bet The Interview wont be as much fun.
(Enlargeable)