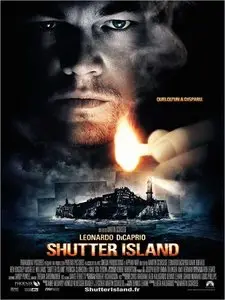 Shutter Island (2010)
1080p BluRay Rip | French, English | Subs: French, English | mkv | 1920x816 | Video: x264@9184 Kbps | Audio: DTS@1510 Kbps | 138 mins | 11.03 GB
Director: Martin Scorsese | Writers: Laeta Kalogridis, Dennis Lehane | Stars: Leonardo DiCaprio, Emily Mortimer, Mark Ruffalo
IMDb Top 250 #239 | 3 wins & 23 nominations
Genre: Drama / Mystery / Thriller
En 1954, le marshal Teddy Daniels et son coéquipier Chuck Aule sont envoyés enquêter sur l'île de Shutter Island, dans un hôpital psychiatrique où sont internés de dangereux criminels. L'une des patientes, Rachel Solando, a inexplicablement disparu. Comment la meurtrière a-t-elle pu sortir d'une cellule fermée de l'extérieur ? Le seul indice retrouvé dans la pièce est une feuille de papier sur laquelle on peut lire une suite de chiffres et de lettres sans signification apparente. Oeuvre cohérente d'une malade, ou cryptogramme ?
Drama set in 1954, U.S. Marshal Teddy Daniels is investigating the disappearance of a murderess who escaped from a hospital for the criminally insane and is presumed to be hiding nearby.
IMDb info
Screenshots (click to enlarge to original size):