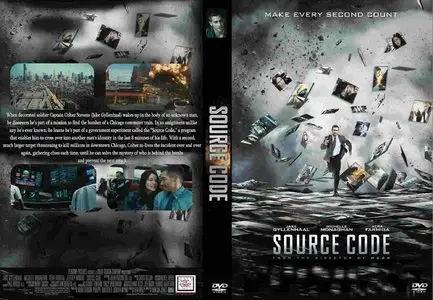 Source Code / Codigo Fuente (2011)
DVD5 | ISO | 01:29:05 | PAL 16:9 (720x576) | 4.36 Gb
Audio: Spanish AC3 5.1 @ 448 kbps, English AC3 5.1 @ 448 kbps | Subs: Espanol, English, Catalan
Genre: Mystery, Sci-Fi, Thriller | USA, France
IMDB
Directed by:
Duncan Jones
Starring:
Jake Gyllenhaal, Michelle Monaghan and Vera Farmiga
English
When decorated soldier Captain Colter Stevens wakes up in the body of an unknown man, he discovers he's part of a mission to find the bomber of a Chicago commuter train. In an assignment unlike any he's ever known, he learns he's part of a government experiment called the "Source Code," a program that enables him to cross over into another man's identity in the last 8 minutes of his life. With a second, much larger target threatening to kill millions in downtown Chicago, Colter re-lives the incident over and over again, gathering clues each time, until he can solve the mystery of who is behind the bombs and prevent the next attack.
Spanish
El capitan Colter Stevens (Jake Gyllenhaal) se despierta de un sobresalto en el interior de un tren de cercanias de Chicago. Aunque todos los demas pasajeros parecen conocerlo el no tiene absolutamente ninguna idea de donde esta o, incluso, de quien es. Lo ultimo que recuerda es estar volando en helicoptero durante una mision en Irak, pero aqui parece ser alguien que va a trabajar por la manana como un dia cualquiera. Pero antes de que puede hacer cualquier cosa un tren se acerca por la via contraria y explota una bomba que aparentemente mata a Colter y a todos los demas pasajeros.