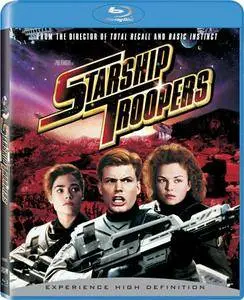 Starship Troopers (1997)
BDRip 720p | MKV | 1280 x 720 | x264 @ 2560 Kbps | 2h 9mn | 2,72 Gb
Audio: English AC3 5.1 @ 448 Kbps | Subtitles: English (embedded)
Genre: Action, Sci-Fi | Director: Paul Verhoeven
From the bridge of the Fleet Battlestation Ticonderoga, with its sweeping galactic views, to the desolate terrain of planet Klendathu, teeming with shrieking, fire-spitting, brain-sucking special effects creatures, acclaimed director Paul Verhoeven crafts a dazzling epic based on Robert A. Heinlein's classic sci-fi adventure about the courageous soldiers who travel to the distant and desolate Klendathu system for the ultimate showdown between the species.
IMDB
- Nominated for 1 Oscar
Again the same story of: "go to watch a movie after read many reviews telling you how bad it's the movie just to find something incredible" and really it was. I remember wait to see and action film about great space heroes, and even when I found heroes and action, I found a awesome and satirical story about the evolution of the human race and how the path of war falls in a road to hell. More than that, Starship troopers it's that kind of science fiction films with great a big special effects but at the same time a terrific script. A shocking story, more realistic and cruel than many movies about real conflicts, where you can feel the havoc and the pain of any battle. The acting it's good, the soundtrack it's one of the best works of Basil Poleoduris. After this you can read the book of Robert Heinlein founding how far goes Paul Verhoeven in every scene and every character creating. But the best of all is how everything has a reason, there's no word or scene without a meaning, even the promise of the beginning remain intact making clear some disturbing things about some character(s). An movie to watch more than two times.
(Enlargeable)