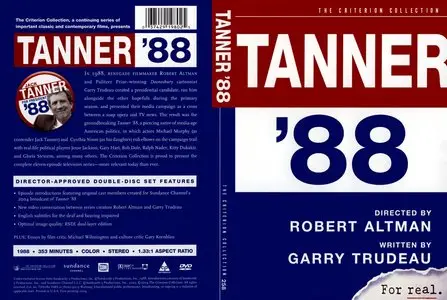 Tanner '88 (1988)
2xDVD9 | ISO | NTSC 4:3 | Cover | 353 Mins | 15,57 Gb
Audio: English AC3 2.0 @ 192 Kbps | Subs: English SDH
Genre: Comedy | The Criterion Collection #258
Directore:
Robert Altman
Stars:
Michael Murphy, Pamela Reed, Daniel Jenkins
In 1988, renegade filmmaker Robert Altman and Pulitzer Prize–winning Doonesbury cartoonist Garry Trudeau created a presidential candidate, ran him alongside the other hopefuls during the primary season, and presented their media campaign as a cross between a soap opera and TV news. The result was the groundbreaking Tanner '88, a piercing satire of media-age American politics, in which actors Michael Murphy (as contender Jack Tanner) and Cynthia Nixon (as his daughter) rub elbows on the campaign trail with real-life political players Jesse Jackson, Gary Hart, Bob Dole, Ralph Nader, Kitty Dukakis, and Gloria Steinem, among many others. The Criterion Collection is proud to present the complete eleven-episode television series—more relevant today than ever.
Jack Tanner's run for the White House was throughly chronicled by cameras as the politician went from state to state and city to city stumping for votes. But if you've never heard of Tanner, don't be surprised. He was the creation of writer Gary Trudeau, of Doonesbury fame, and maverick film director Roberrt Altman. Together the pair skillfully interweave fiction with reality creating a show that accurately portrays the American political system and its weaknesses. The program, Tanner '88, originally ran for eleven episodes on HBO in 1988, and has now been released by Criterion. Just in time for the 2004 presidential race this shows comments are just as relevant today as they were a decade and a half ago.




Tanner is a liberal Democrat, an ex-senator who is running for his party's nomination for president. He's the dark horse candidate, but when an aide videotapes Jack giving a pep talk to his disheartened staff, the resulting video gives him a boost in the polls and a campaign slogan: For Real.

The show follows Tanner from quilting bees in New Hampshire to the democratic debates and finally the national convention. Along the way we see what it takes to run a campaign, the problems that crop up, how luck plays a large role, and the way the extent that a candidate has to 'invent' himself in order to be elected.




That is one of the main themes of the show, and the irony of Tanner's slogan, that nobody is 'for real.' As one campaign staffer puts it: "Ninety-one percent of Americans believe that this is the best place on the planet. And that gives people a sense of entitlement. The best demand the best." In other words, they don't want someone human, with faults, they want someone who is perfect.




The show constantly reminds us that contrast between image and reality is at its peak in American politics. The spin-miesters in Tanner's organization tell him that he can't be photographed carrying his own bags into a hotel. That shows that he's not capable of delegating responsibility, and the voters want that in a president. He gets lessons on how to pose with babies since Jesse Jackson is way ahead of them in baby photos. The fact that he likes to carry his own bag and doesn't feel comfortable around babies doesn't enter into it. It is all about how the public perceives him, not what he really thinks.

Watching the current election in the US, it is apparent that the sentiment applies today more than ever. Political battles today are fought over perceptions, not reality, and this is one of the first shows that really examined that unfortunate trend.




The show also works as just plain entertainment. Altman and Trudeau compliment each other in an interesting way. Trudeau has always been more interesting in politics and he creates some interesting scenes and some great monologs. His familiarity with the political process is evident in many of the exchanges such as the time when Tanner's pollster explains why the campaign's polls are better than the network numbers. (Because networks just want to report a number but don't want to spend a lot of money. But the campaigns want accurate data and are willing to spend more money for larger samplings with better cross sections.) Altman on the other hand, makes the program seem real, with his almost trademark overlapping dialog and cinema-verité feel.




Altman's self described "mockumentary" shouldn't really be compared to other movies in the genre like Spinal Tap and Best in Show. Tanner '88 is a different creature altogether, less frivolous, with something to say about American society. The upshot of that is that this program isn't as humorous as other movies in the genre. Yes there are some funny moments in each show, but there are also serious sections like the episode where a Detroit man reads a poem he wrote about watching his daughter get killed in a drive by shooting.




Though the last few episodes seemed to drag a little, the show is still an unrecognized masterpiece in American television. Amusing, informative and thought provoking, Tanner '88 is a satire of American politics that every voter should watch.

The show won Altman an Emmy award for direction back in the days when cable shows rarely were even nominated. Tanner '88 in a humorous and biting satire on the American political system that is just as relevent today as it was when it first aired. Highly Recommended.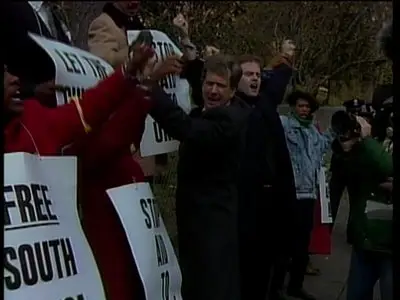 Special Features:
- Episode introductions featuring original cast members created for Sundance Channel's 2004 broadcast of Tanner '88
- New video conversation between series creators Robert Altman and Garry Trudeau
- English subtitles for the deaf and hearing impaired
- Optimal image quality: RSDL dual-layer edition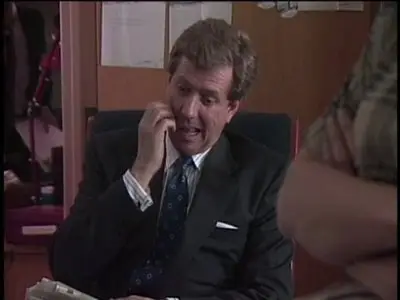 Many Thanks to violator99.
No More Mirrors, Please.

3D19BC62829A6A71AF35116AEAE59345 *TCC258.Disc1.AH.SE.part01.rar
A7D9B6035D63E4DB9B490D100F6FE47E *TCC258.Disc1.AH.SE.part02.rar
24BBE970FD656E9FBA80EB7F87D155A0 *TCC258.Disc1.AH.SE.part03.rar
200BE2E4FAFFE7463280AA2B189685A3 *TCC258.Disc1.AH.SE.part04.rar
9809D98D5815C7CBA1C57906675A93F6 *TCC258.Disc1.AH.SE.part05.rar
A8D75A09ED3A808EDC44B5E324FEF386 *TCC258.Disc1.AH.SE.part06.rar
F0A55DCDB35CA2BBA639529B676FE9F8 *TCC258.Disc1.AH.SE.part07.rar
C5D7DCA79305DD981678F883AED02CBE *TCC258.Disc1.AH.SE.part08.rar
A45E8F7CB11AD8483BF0B90C4C30D804 *TCC258.Disc1.AH.SE.part09.rar
D4A758D34AB70E4D0A040A60913886C5 *TCC258.Disc1.AH.SE.part10.rar
5DF29A741852B109F590FB62B586CC3B *TCC258.Disc1.AH.SE.part11.rar
DFAC4C1A0A07FB74084214292F757D4B *TCC258.Disc1.AH.SE.part12.rar
BA1C04FD425D878094DD241939821967 *TCC258.Disc1.AH.SE.part13.rar
4906AE8928DD7B8A5FEA88439C942616 *TCC258.Disc1.AH.SE.part14.rar
771863CC8A9D4B50C4C8BF222D2591D9 *TCC258.Disc1.AH.SE.part15.rar
FCD1EB845E1409C5E446D7567B2EABD2 *TCC258.Disc1.AH.SE.part16.rar

AA0CC1A9F76809C467F6FE76CE1E7F0D *TCC258.Disc2.AH.SE.part01.rar
90E97EF741282214D80189977F15C8B1 *TCC258.Disc2.AH.SE.part02.rar
7361ED7B67A5963592086ED96DDE9FF9 *TCC258.Disc2.AH.SE.part03.rar
DAE63BD6A2DC00063F99A4CFDDE1AE23 *TCC258.Disc2.AH.SE.part04.rar
A8F5A4580F3FF7D1E223E383FCDFD362 *TCC258.Disc2.AH.SE.part05.rar
72D6182B2E69B70F9539A5C906F9E7DD *TCC258.Disc2.AH.SE.part06.rar
3EED4FDE718498F13919117BB7BAE0C5 *TCC258.Disc2.AH.SE.part07.rar
F7E3A12B5DAED699538CFE36A5DAA215 *TCC258.Disc2.AH.SE.part08.rar
F9CBF9E9C39E35B1C3E673834881DACC *TCC258.Disc2.AH.SE.part09.rar
155F2068FA55361DECA9729440412F5C *TCC258.Disc2.AH.SE.part10.rar
F5D14C61A47718CC699963FC30474E9B *TCC258.Disc2.AH.SE.part11.rar
A26702291066D1D18267159BB10ACAF5 *TCC258.Disc2.AH.SE.part12.rar
9D87DA2D41D672BA461EE0DF2468B196 *TCC258.Disc2.AH.SE.part13.rar
F21BAE57C2590CF62E90AABFFF2967FF *TCC258.Disc2.AH.SE.part14.rar
005CD962E42E1A9D28DCA589BBC6DF41 *TCC258.Disc2.AH.SE.part15.rar
BF5A9FD82CB6B36CCFE7B553E97D3EAB *TCC258.Disc2.AH.SE.part16.rar
1A59BB2E473E3C85A2555CA476B0C305 *TCC258.Disc2.AH.SE.part17.rar