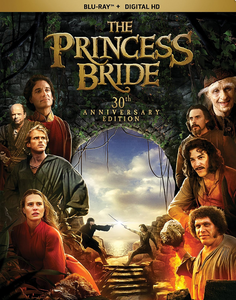 The Princess Bride (1987)

1080p BDRip | mkv | x265 HEVC @ 2898 Kbps, 23.976 FPS | 1920 x 1040 | 1h 38min | 3.40 GB

6-ch English DTS @ 1509 Kbps, 24-bit | 2x 2-ch English Commentaries AC-3 @ 224 Kbps, 16-bit

Subtitle: English | Genres: Adventure, Family, Fantasy, Comedy, Romance

#93

| My List | 100 Greatest Films of All Time | Set 1
A genre-twisting and audience-bending film if there was ever one, The Princess Bride is the quintessential Fairy Tale come to celluloid life. Few other films enjoy such a broad spectrum of fans, from hopeless romantics to Action-first tough guys; the Star Wars films come to mind as another example that draws such a diverse following. The Princess Bride takes traditional storytelling themes – romance, adventure, revenge, and comedy – and melds them into a film so unique, so captivating, so magical, and so fun, that it's no wonder it has become a cultural phenomenon with staying power quite unlike anything else in modern cinema history. By film's end, hardcore Action fans will be grinning from ear to ear when the day is won and the "most passionate kiss of all time" is put on display, and Romance aficionados will find themselves cheering on the film's heroes as they engage in daring swordplay. The Princess Bride not only offers a little bit of everything, it offers a little bit of everything superbly and exactly melded into a single, cohesive tale that couldn't have been more precise in its dosage of each element had a man of the most dizzying of intellects assembled the picture one bit at a time.
A young boy (Fred Savage, The Wizard) is sick and his grandfather (Peter Falk, TV's "Columbo") arrives to pinch his cheek and cheer him up with a good book. The book is The Princess Bride, a fairy tale that had better contain sports and action if the boy's interest is to be held. Although the story is initially about a young farm boy named Westley (Cary Elwes, Glory) falling in love with the fair maiden Buttercup (Robin Wright Penn, Unbreakable), it quickly morphs into a tale of unparalleled adventure, witty comedy, revenge, and swordplay. When Westley heads out to fund his wedding to Buttercup and never returns, the girl is forced to become engaged to the evil Prince Humperdinck (Chris Sarandon, Child's Play). Meanwhile, a trio of misfits – the pseudo-intellectual Vizzini (Wallace Shawn, Toy Story), the massive Fezzik (the late wrestling star Andre the Giant), and the expert swordsman Inigo Montoya (Mandy Patinkin, Alien Nation) – kidnap Buttercup in hopes of beginning a war between two rival countries, Guilder and Florin. Their plan is thwarted when they find themselves pursued by a man in a black mask, bent on retrieving Buttercup from their clutches. As the story develops, identities are revealed, long-lost loves are revived, and old wounds are healed as enemies become allies in an effort to restore right in Florin.

It seems only appropriate that the story of The Princess Bride is beheld through the eyes of a young boy whose interests include the Chicago Bears, Star Wars, He-Man, and video games. Fred Savage's character is the audience. He reflects the thought processes of the average man for sure, initially reluctant and possibly even repulsed at the mere idea of enduring a tale as effeminate as one entitled The Princess Bride. As the story progresses, as the sappy romance of the opening pages becomes a page-turning tale of danger, desperation, revenge, honor, and dignity, all with a heaping dose of levity thrown in for good measure, it soon becomes evident that this tale is no Jane Austen-wannabe in disguise. Quite the opposite in fact, The Princess Bride is breezy, quick, and easily accessible, the sort of movie that mesmerizes not because of its intricacies but rather through its charming and undemanding simplicities. This is the sort of film where everything – literally – comes together in pitch-perfect harmony. The film enjoys inspired performances from each and every member of the cast as they portray characters that demand both physical coordination and spot-on comedic timing; the script is witty, fun, and fresh, and even more than 20 years after its release, The Princess Bride remains as quotable as ever with its too-numerous-to-count memorable lines; and the efforts of those behind the camera – Director Rob Reiner (This is Spinal Tap) and Grammy-nominated Composer Mark Knopfler (Wag the Dog) in particular – solidify the film by creating for it a look and feel as innocent and charming as the script and the performances.

Above all else, though, it is truly the performances of the cast that make The Princess Bride a complete success. Their understanding of the roles, grasp of the tone, flawless comedic timing, dramatic and slightly over-exaggerated body language, and camaraderie make for one of cinema's best ensemble casts. Cary Elwes delivers an engaging performance as hero-turned-villain(sort of)-turned-hero, showcasing a range where he at one moment engages in daring swordplay and enters into a battle of intellect the next. His character is the embodiment of all that is good – dedicated, passionate, strong, relentless, intelligent, and honorable – and Elwes never misses a beat in emoting each one. Mandy Patinkin turns in, arguably, the film's most memorable role as the single-minded Inigo Montoya, bent on revenge and displaying unflinching courage and skill no matter the opponent. Andre the Giant's performance as Fezzik may not be the stuff of acting legend, but his enormous stature and strength is matched only by the size of his heart. He's soft-spoken and strong, meager yet menacing, and a joy to watch in every scene. Robin Wright Penn is delectable as Princess Buttercup. She's the prototypical damsel in distress, one who knows what she wants and needs but cannot fend for herself without the help of her one true love at her side. Lastly, Wallace Shawn inconceivably steals the show as Vizzini, a man whose intellect puts the great philosophers of ancient Greece to shame, or so he thinks. Surly a man as intelligent as he need not surround himself with an expert swordsman and a hulk of a man to win the day. The superiority of his intellect is matched only by the shine of his head, and Shawn, in a rather brief role, serves as the ultimate in comic relief, his character's levity coming across loud, clear, and unmistakable in a film that otherwise derives many of its laughs from far more subtle and low-key dialogue and visuals.
Please Note: Playback of this H.265/HEVC encoded video file in VLC media player may cause problem (like Green Screen). A fresh install of the player or a new version can solve this problem. I strongly suggest you to download and install "K-Lite Codec Pack (Full or Mega version; totally free with WMP Classic)" on your system first and then try to play the file in VLC. Or, you can just install PotPlayer, and no codecs will be needed. I use this player for playing all sorts of media… from MP3 audio files to 4K UHD video files.

Mac users please get help from the Internet and YouTube.