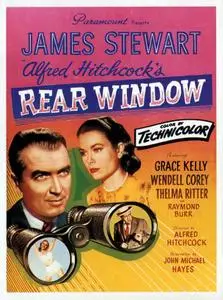 Rear Window (1954)
DVD Video | 1hr 49mn | PAL 16:9 | 720x576 | 6.90 Gb
English: Dolby AC3, 2 ch; German: Dolby AC3, 2 ch
Subtitles: English, Deutsch, Nederlands, Svenska, Dansk, Norsk, Suomi
Genre: Mystery, Thriller


Directors:
Alfred Hitchcock
Actors:
Jessica Tandy, Bruce Dern, Ed Lauter, Anna Massey, Billie Whitelaw
Phoenix officeworker Marion Crane is fed up with the way life has treated her. She has to meet her lover Sam in lunch breaks and they cannot get married because Sam has to give most of his money away in alimony. One Friday Marion is trusted to bank $40,000 by her employer. Seeing the opportunity to take the money and start a new life, Marion leaves town and heads towards Sam's California store. Tired after the long drive and caught in a storm, she gets off the main highway and pulls into The Bates Motel. The motel is managed by a quiet young man called Norman who seems to be dominated by his mother.
Extras:
- Rear Window Ethics: An Original Documentary
- A Conversation with Screenwriter John Michael Hayes
- Production Photographs
- Theatrical Trailer
- Trailer Compilation
- Production Notes


Title: TheAlfredHitchcockCollection.RearWindow.1954.D9
Size: 6.90 Gb ( 7 239 460,00 KBytes ) - DVD-9
Enabled regions: 1, 2, 3, 4, 5, 6, 7, 8

VTS_01 :
Play Length: 01:49:30
Video: PAL 16:9 (720x576) VBR, Auto Letterboxed
Audio:
English (Dolby AC3, 2 ch)
Deutsch (Dolby AC3, 2 ch)
Subtitles:
English
Deutsch
Nederlands
Svenska
Dansk
Norsk
Suomi

VTS_02 :
Play Length: 00:00:00+00:02:40+00:55:11+00:06:14+00:13:11
Video: PAL 4:3 (720x576) VBR
Audio:
English (Dolby AC3, 2 ch)
Subtitles:
English
Deutsch
Nederlands
Svenska
Dansk
Norsk
Suomi

VTS_03 :
Play Length: 00:00:00+00:00:00+00:00:00+00:00:00+00:00:00+00:00:00+00:00:00+00:00:00+00:00:00+00:00:00+00:00:00+00:00:00+00:00:00+00:00:00+00:00:00+00:00:00+00:00:00+00:00:00+00:00:00+00:00:00+00:00:00+00:00:00+00:00:00+00:00:00+00:00:00+00:00:00+00:00:00+00:00:00+00:00:00+00:00:00+00:00:00+00:00:00+00:00:00+00:00:00+00:00:00+00:00:00+00:00:00+00:00:00+00:00:00+00:00:00+00:00:00+00:00:00+00:00:00+00:00:00+00:00:00+00:00:00+00:00:00
Video: PAL 4:3 (720x576) VBR