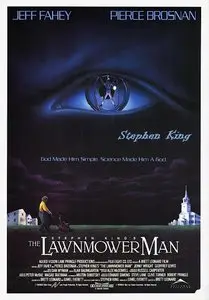 The Lawnmower Man [Director's Cut] / Газонокосильщик [Режиссерская версия] (1992)
DVD Video | 2hr 20mn | PAL 4:3 (720x576), ~ 2.8 Mbps | 7.05 Gb
Russian / English: Dolby AC3, 6 ch
Subtitles: Russian
Genre: Horror | Sci-Fi
IMDB Rating: 5.1/10 (14.124 votes)
Director:
Brett Leonard
Writers:
Stephen King, Brett Leonard
Stars:
Jeff Fahey, Pierce Brosnan and Jenny Wright
A scientist performs experiments involving intelligence enhancing drugs and virtual reality on a simple-minded gardener. He puts the gardener on an extensive schedule of learning, and quickly he becomes brilliant. But at this point the gardener has a few ideas of his own on how the research should continue, and the scientist begins losing control of his experiments.
Note:
"Director's Cut" 33 minutes longer than the rolled version. Quality is likely, VHS
Название:
Газонокосильщик
Оригинальное название:
The Lawnmower Man
Год выпуска:
1992
Жанр:
Фантастика
Выпущено:
New Line Cinema
Режиссер:
Бретт Леонард
В ролях:
Джефф Фэйи, Пирс Броснан, Дженни Райт, Марк Бринглсон, Джеффри Льюис
О фильме:
Экранизация одноимённого романа Стивена Кинга. Молодой ученый Лоуренс Анджело ставит эксперименты с использованием высоких компьютерных технологий в комбинации с наркотиками. После многочисленных неудач, он берет в подопытные неполноценного Джоуба, чьего умственного запаса хватает только на работу газонокосильщиком. Внедрив Джоуба в виртуальную реальность – трехмерный компьютерный мир, ученому удается превратить его в человека, наделенного огромными психокинетическими способностями и развить умственные способности Джоуба до супергения. Но в ход экспериментов тайно вмешиваются военные, и испытуемый превращается в сверхинтеллектуального монстра с манией величия, который решает заявить о своих правах на мировое господство…
Качество:
DVD
Видео:
PAL 4:3 (720x576) VBR
Аудио:
Русский, английский (Dolby AC3, 6 ch)
Продолжительность:
02:20:51
Перевод:
Профессиональный, многоголосый
Субтитры:
Русские
Размер:
7.05 Гб
Примечание:
Режиссерская версия фильма, на 33 мин длиннее прокатной. Качество, скорее всего, VHS. Лицензия R5 от Lizard
The Lawnmower Man [Director's Cut] / Газонокосильщик [Режиссерская версия] (1992) DVD9
folder Uploading
folder Filesonic
5% Recovery. Parts of archives are compatible. No password