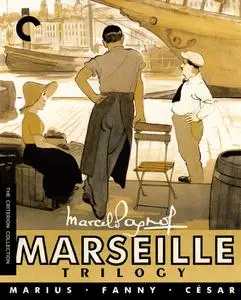 The Marseille Trilogy: Marius (1931) / Fanny (1932) / Cesar (1936) [Criterion Collection, Spine #881]
DVD Video, 4 x DVD9 | 3 x ~ 2hr 20mn | NTSC 4:3 | 720x480 | ~ 28.3 Gb
French (Français): AC3, 1 ch | Subtitles: English
Genre: Comedy, Drama, Romance

Director:
Alexander Korda, Marc Allégret, Marcel Pagnol
In the 1930s, Marcel Pagnol, a leading light of the Paris theater, set out for new horizons as a filmmaker in his native Provence. His early masterpieces Marius, Fanny, and César mix theatrical stagecraft with realistic location photography to create an epic love story from the fabric of everyday life. Gruff, sentimental César (music-hall star Raimu) owns a waterfront bar in the Old Port of Marseille where his son, Marius (Pierre Fresnay), wipes down tables and dreams of a life at sea. The prosperous, middle-aged sailmaker Panisse (Fernand Charpin) wants to wed Marius's sweetheart, Fanny (Orane Demazis), setting up a fateful romantic triangle whose story unfolds across a generation in the films of The Marseille Trilogy, which first earned Pagnol his place in cinema history. "If Pagnol is not the greatest auteur of the sound film," critic André Bazin wrote, "he is in any case something akin to its genius."
The Marseille Trilogy:Marius (1931, #882)
https://www.imdb.com/title/tt0022125/
Adapting his hit play Marius for the screen two years after its stage premiere, Marcel Pagnol turned his inimitable creative energies to the new medium of sound cinema in a felicitous collaboration with the Hungarian-born director Alexander Korda, soon to leave his mark on British cinema. Young Marius and Fanny begin to recognize that their lifelong friendship has blossomed into romance, but their hopes of marriage are left unrealized when Marius cannot overcome his longing to go to sea, against the wishes of his adoring father, César, but with Fanny's selfless encouragement. Pagnol and Korda bring a keening lyricism to this tale of lovers torn between devotion and the restless urge for adventure, a conflict that begins to shape their destinies in ways they could never have predicted.
Fanny (1932, #883)
https://www.imdb.com/title/tt0022877/
The delicate romanticism of The Marseille Trilogy's opening encounters harsh reality in this installment, which picks up moments after Marius has left his would-be wife, Fanny, for a sailor's existence. Soon after his departure, Fanny learns that she is pregnant with his child, to the disappointment of her mother and of Marius's father, César. To secure a better life for her unborn child, she accepts a marriage proposal from the aging widower Honoré Panisse. By turns moving and disarmingly funny, this portrait of heartbreak and its aftermath is buoyed by Pagnol's openheartedness toward his characters, and by director Marc Allégret's vivid and assured depiction of colorful Marseille.
César (1936, #884)
https://www.imdb.com/title/tt0027489/
In the final chapter of The Marseille Trilogy, Marcel Pagnol returns his compassionate gaze to his weathered characters as they discover the possibility of reconciliation and the durability of love. Leaping forward twenty years, the trilogy continues with the death of Fanny's husband, Panisse, and the discovery of her secret by her son, Césariot. The young man resolves to track down his biological father, Marius, whose life has been fraught with calamity and poverty. The only film in the trilogy written expressly for the screen and directed by Pagnol, César resolves the protagonists' star-crossed destinies with the garrulous wit and understated naturalism that have made this epic love story a landmark of humanist filmmaking.
Extras:
Disc 1 Marius
- Introduction by Bertrand Tavernier
- Orane Demazis (Archival interview)
- Theatrical Release Trailer
- Restoration of the Marseille Trilogy
Disc 2 Fanny
- Pierre Fresnay (Archival interview)
Disc 3 Cesar
- Robert Vattier (Archival interview)
Disc 4 Supplements
- Nicolas Pagnol (grandson)
- Pagnol's Poetic Realism, video essay by scholar Brett Bowles
- Marseille (1935) IMDb
- Marcel Pagnol: Morceaux Choisis (1973) Segments
All thanks to the original uploader



If you like this release please visit my blog
In it you will find ALL the latest Criterion Collection releases