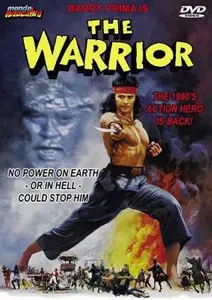 The Warrior / Jaka Sembung (1981)
DVDRip | AVI | English | 92 min | 720x304 | XviD - 1704 Kbps | AC3 - 192 Kbps | 1,09 GB
Genre: Adventure, Action | Country: Indonesia

IMDB rating: 6.0/10 (91 votes)
Directed by: Sisworo Gautama Putra
Starring: Barry Prima, Eva Arnaz and W.D. Mochtar
Indonesia is a country in turmoil. The people are poor and oppressed by the Dutch Government. However one hope remains in the form of rebel leader Djaka Semboeng. His rebels and his famous fighting ability inspires the people to hang on. Van Shramm, the Dutch representative in Java offers a reward for the death of Semboeng and employs a mighty warrior, the invincible Kobar, to go after him. One short fight later Kobar is dead and Van Shramm turns to a magician for him. The magician resurrects the deadly of enemy of Semboeng, Kieten, to take revenge. Kieten faces Semboeng and defeats him - Semboeng is imprisoned and blinded by the cruel Van Shramm. However Van Shramm's daughter has fallen for Semboeng and frees him. Semboeng again faces Kieten and is overcome by his magic - finally being turned into a pig before escaping the prison! A kindly magician returns Semboeng to his human form and teaches him new skills that he will need as he prepares to face Kieten for the final time.