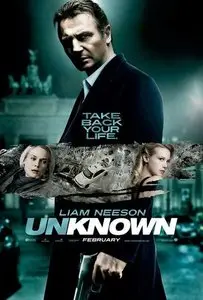 Unknown / Неизвестный (2011)
DVD Video | 1hr 52mn | PAL 16:9 | 720x576 | 5.32 Gb
Russian / English / Ukrainian: Dolby AC3, 6 ch; English: Dolby AC3, 2 ch
Subtitles: Russian, English
Genre: Drama | Mystery | Thriller
IMDB Rating: 7.1/10 (19.266 votes)
Director:
Jaume Collet-Serra
Writers:
Oliver Butcher, Stephen Cornwell
Stars:
Liam Neeson, Diane Kruger and January Jones
A man awakens from a coma, only to discover that someone has taken on his identity and that no one, (not even his wife), believes him. With the help of a young woman, he sets out to prove who he is.
Название:
Неизвестный
Оригинальное название:
Unknown
Год выпуска:
2011
Жанр:
Триллер, драма, детектив
Выпущено:
США, Германия, Канада, Франция, Япония, Великобритания
Режиссер:
Жауме Серра
В ролях:
Лиам Нисон, Дайан Крюгер, Дженьюэри Джонс, Эйдан Куинн, Бруно Ганц, Фрэнк Ланджелла, Себастьян Кох, Оливье Шнайдер, Стипе Эрчег, Райнер Бок
О фильме:
История повествует о мужчине, который после пробуждения от комы обнаруживает, что его личность присвоена другим, и понимает, что никто, даже собственная жена, не верит ему. И тогда при помощи незнакомой молодой женщины-таксистки герой стремится доказать, кто он такой.
Качество:
DVD
Видео:
PAL 16:9 (720x576) VBR
Аудио:
Русский, английский, украинский (Dolby AC3, 6 ch), английский (Dolby AC3, 2 ch)
Продолжительность:
01:52:46
Перевод:
Дублированный
Субтитры:
Русские, английские
Размер:
5.32 Гб