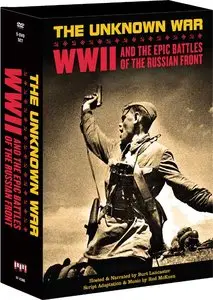 The Unknown War: WWII And The Epic Battles Of The Russian Front. Ep03: The Siege Of Leningrad / Великая Отечественная / Неизвестная Война (1979)
DVDRip | 0hr 51mn | XVID, ~3,2 Mbps | 640x480 | 1.37 GB
English \ Russian: MP2, 2 ch, 192 Kbps; Russian: MP2, 2 ch, 128 Kbps
Subtitles: None
Genre: Documentary | Historical | War | Series
IMDB Rating: 8.7/10 (194 votes)
Directors:
Roman Karmen
Actors:
Burt Lancaster, Rod McKuen
The Unknown War was a landmark television documentary series about the Soviet struggle against, and ultimate victory over, the Nazi war machine. Hosted and narrated by Academy Award winner Burt Lancaster, this sprawling series features rare and stunning footage recorded by Soviet camera crews on the front lines, most of it unseen since its original broadcast 30 years ago. From the June 22, 1941, invasion of the Soviet Union to the Russians' victorious march into Berlin in 1945, the devastating battles in the air, at sea and on land are detailed with astonishing images. These stories of heroism, savagery and suffering from what the Russians call The Great Patriotic War will shed new light on the Red Army's massive contribution to the Allies' defeat of Hitler in World War II.
Жанр:
Документальный, война
Год выпуска:
1978
Выпущено:
Россия, СССР
Режиссер:
Роман Кармен
Ведущий:
Берт Ланкастер
О фильме:
Фильм посвящен началу Великой Отечественной войны. Что предшествовало вероломному нападению нацистской Германии на Советский Союз 22-го июня 1941 года? Почему Советская Армия понесла тяжелые потери в первые дни войны? Почему Гитлер был уверен в быстрой победе? На эти и многие другие вопросы, попытались ответить авторы фильма.
Фильм 3-й:
«Блокада Ленинграда»
Русское озвучивание:
Василий Лановой / NTV channel