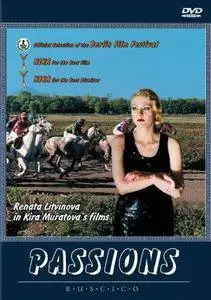 Passions (1994)
DVDRip | MKV | 720x576 | x264 @ 2048 Kbps | 106 min | 1,87 Gb
Audio: Русский AC3 5.1 @ 448 Kbps | Subs: English, Русский, Nederlands, Deutsch, Français
Genre: Drama
Director:
Kira Muratova
Stars:
Svetlana Kolenda, Renata Litvinova, Albina Skarga
People with a passion for horses are observed in this Russian film by filmmaker Kira Muratova. The film has no real plot. Instead it zeros in on several scenes in which people talk about or hang out around horses.
… The film is visually sumptuous, nicely filmed with great use of light and colors, and includes some long drawn-out montage shots of horses milling about that are just so natural, and so lovingly done. Sound plays a noticeable part in this film as well. Here and there in parts are heard excerpts from a great Beethoven symphony, yet also occasionally are heard in the background a cacophony of war noises: gunshots, automatic weapons fire, missiles, etc. - for no apparent reason, and without explanation. Also, apparently in keeping with director Kira Muratova's style, characters will often say words or phrases over and over again, for no apparent reason other than perhaps because that's just the way Muratova does things… It all makes little sense, yet I didn't feel it marred the film in any way, instead adding to the overall whimsical and eccentric nature of the film.

Anyway, a nicely done film, one that I will long remember. My only regret is that there are not more films like this one, as often times it's the odd, whimsical tale that can bring one the greatest joy.
(click to enlarge)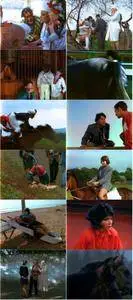 More in My Blog