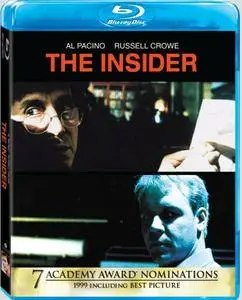 The Insider (1999)
BDRip 720p | MKV | 1280 x 720 | x264 @ 2560 Kbps | 2h 37mn | 3,32 Gb
Audio: English AC3 5.1 @ 448 Kbps | Subtitles: English (embedded)
Genre: Drama, Thriller | Director: Michael Mann
Balls-out "60 Minutes" producer Lowell Bergman sniffs a story when a former research biologist for Brown & Williamson, Jeff Wigand, won't talk to him. When the company leans hard on Wigand to honor a confidentiality agreement, he gets his back up. Trusting Bergman and despite a crumbling marriage, he goes on camera for a Mike Wallace interview and risks arrest for contempt of court. Westinghouse is negotiating to buy CBS, so CBS attorneys advise CBS News to shelve the interview and avoid a lawsuit. "60 Minutes" and CBS News bosses cave, Wigand is hung out to dry, Bergman is compromised, and the CEOs of Big Tobacco may get away with perjury. Will the truth out?
IMDB
- 23 wins + Nominated for 7 Oscars
Russell Crowe at his best as a Kentucky tobacco executive in Eric Roth and Michael Mann's masterpiece, "The Insider," is one of the most underrated American films ever. Not only is it important historically for its political implications - not about tobacco, but about conflicts of commercial interest that control freedom of speech along the airwaves in the U.S.- it is a great story and it is true. Disney had no idea how to market "The Insider" and essentially sold it as tobacco movie and it is so much more. Pacino gives a grand A plus performance as a Long Island Jewish producer and halfway through the movie I forgot he was Al Pacino. Even better Christopher Plummer masterfully captures the full essence of Mike Wallace. Gina Gershon could turn lust from a stone as always. Michael Mann seems to always pull strong performances from his actors, and Eric Roth who brilliantly adapted "Forrest Gump" did the same here with Mann. Though long, "The Insider" is never boring and a movie all Americans should see twice to make sure they fully comprehend regardless of how you feel about the tobacco debate.
(Enlargeable)