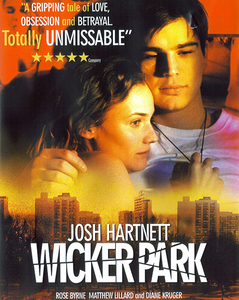 Wicker Park (2004)
WEB-Dl 1080p | MKV | 1920x816 | x264 @ 8279 Kbps | 114 min | 7,01 Gb
Audio: English AC3 5.1 @ 448 Kbps | Subs: English, Français, Español, Português, Nederlands, Suomi, Hebrew (עברית)
Genre: Mystery, Romance, Thriller
Director:
Paul McGuigan
Writers:
Gilles Mimouni (film L'Appartement), Brandon Boyce (screenplay)
Stars:
Josh Hartnett, Diane Kruger, Matthew Lillard
Matthew, a young advertising executive in Chicago, puts his life and a business trip to China on hold when he thinks he sees Lisa, the love of his life who walked out on him without a word two years earlier, walking out of a restaurant one day. With a little help from his friend Luke, Matthew obsessively and relentlessly tracks Lisa down and while doing so, runs into another young woman calling herself Lisa whom, unknown to Matthew, is an actress named Alex and may hold the key to Lisa's disappearance, and discovery.
I didn't have any expectations about this movie before it started. In the beginning it seemed like an ordinary movie to me, a little boring even. Just another love story. But then I got confused because of the scenes following each other like they were put in a random order. After about an hour and a half I regained my grip on the story. That was the moment I started liking the movie, because (I assumed) I understood and wanted it to end happily.

This movie reminded me of Hitchcock's "Vertigo", because of the confusing sequence of scenes. Also "He Loves Me… He Loves Me Not" popped into my head, when after the first hour and a half things were clarified by, paradoxically, putting scenes even more out of chronological order. The last movie I had to think of was "Vanilla Sky", with its similar confusion about two different girls.

In my opinion, the confusion and clarifying of the narrative makes this a surreal but satisfying movie. 8 out of 10.
(click to enlarge)

More in My Blog