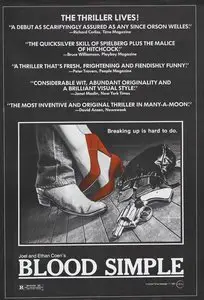 Blood Simple (1984) (Repost)
720p BluRay Rip | English | mkv | 1280x692 | Video: AVC @ 5056 Kbps | Audio: DTS @ 1510 Kbps | 96 mins | 4.43 GB
Directors: Joel Coen, Ethan Coen | Writers: Joel Coen, Ethan Coen | Stars: John Getz, Frances McDormand, Dan Hedaya
4 wins & 5 nominations
Genre: Crime / Drama / Thriller
Blood Simple (1984) is an American neo-noir crime film. It was the directorial debut of Joel and Ethan Coen and the first major film of cinematographer Barry Sonnenfeld, who later became a noted director. The film's title derives from the Dashiell Hammett novel Red Harvest, in which "blood simple" is a term to describe the addled, fearful mindset of people after a prolonged immersion in violent situations.
The film received an overwhelmingly enthusiastic response at release and has held up well, currently holding a 96% "fresh" rating on Rotten Tomatoes. Robert Hoffman's Motion Picture Encyclopaedia gave the film the maximum 4 stars, calling it a "brilliant debut film of the editing-assistant of the, also amazing, Evil Dead." The reviewers praise the music, the acting by Walsh, and the virtuosity of the camerawork by Barry Sonnenfeld. They conclude their review by saying that this film can't be missed.
IMDB info
Screenshots (click to enlarge to original size):