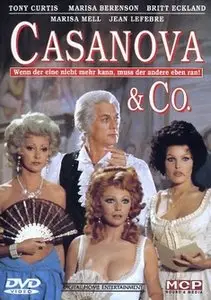 Casanova & Co. (1976)
(aka "Amorous Misadventures of Casanova")
FMP4 686x426 25.00fps 1916Kbps | German MP3 stereo 128Kbps | 01:38:31 | 1.41 GB
Erotic Comedy | Director: Franz Antel | Stars: Tony Curtis, Marisa Berenson, Britt Eckland, Jean Lefebvre
Giacomo Casanova bestraft das Schicksal hart. Nicht nur, dass ihn seine Männlichkeit jäh im Stich lässt, nein, auch die trottelige Polizei von Venedig ist hinter ihm her. Der Meister der Liebe kann ja nicht ahnen, dass er dem hohen politischen Besuch, der exotischen und liebeshungrigen Calipha von Shiraz, eine leidenschaftlichen Nacht bescheren soll. While hiding from the royal authorities, Giacomo Casanova (Tony Curtis), the famous romancer, encounters his look-alike: Jacomino, a fugitive petty con man. Meanwhile, the Arabian Caliph and his wife are arriving in Venice for a state visit, and she insists on a night with the legendary lover. Through a series of erotic encounters and mistaken-identity comedies, Jacomo and Jacomino make their way back to Venice for their appointment with the Caliph's wife.