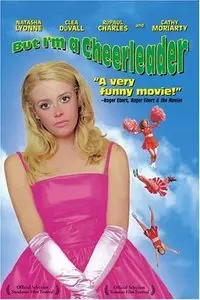 But I'm a Cheerleader (1999)
English | Xvid 1578kbs | 84min. | 720 x 400 | MP3 128kbs | 1000MB
Subtitles: English, Spanish, Czech, Polish, Portuguese, Estonian, Croatian, German, Finnish, Italian
Genre: Comedy | Romance
]
This candy-box colored comedy of sexual discovery chronicles the life of Megan, a typical teenager coming of age in anything but a typical fashion. Megan's super normal suburban existence is filled with friends, pom-poms and rah-rah enthusiasm until her straight-laced parents suspect that their "little poodle" may, in fact, be showing deviant tendencies.
In a complete panic, Megan's parents elicit the help of her friends and the guidance of a rehabilitation camp, True Directions, to mount an all out intervention. Mike, ex-gay and True Directions counselor, leads the intervention and before Megan can pack her pom-poms, she is whisked off to learn how to be a perfect woman.
True Directions is run under the strict, all seeing eyes of the sadistic Mary. Megan dutifully gets with the deprogramming so she can return to her life of boyfriends, football games, and her absolute favorite activity – cheerleading. Everything seems perfect, but the fun begins when her hormones start to rage and her friends and family wonder where she'll find love.
Megan Bloomfield es animadora en su colegio, tiene amigas animadoras y es novia del capitán del equipo de fútbol. Es vegetariana, no le gustan los besos de su novio y abraza cuando puede a sus amigas. Un día sus amigos/as, su novio y sus padres le tienen una trampa para enviarla a un campamento en el que curan la homosexualidad. Megan tiene que pasar varias pruebas, incluyendo la primera que es darse cuenta de que es lesbiana.