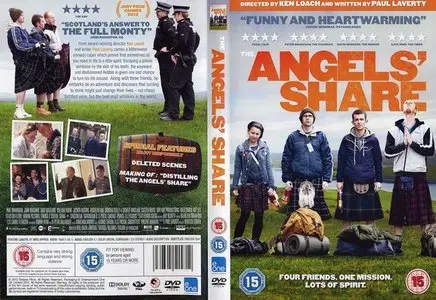 The Angels' Share (2012)
DVD9 | VIDEO_TS | PAL 16:9 | Cover + DVD Scan | 01:36:56 | 7,18 Gb
Audio: English AC3 5.1/2.0 @ 448/192 Kbps | Subs: English SDH
Genre: Comedy, Drama
Director:
Ken Loach
Writer:
Paul Laverty (screenplay)
Stars:
Paul Brannigan, John Henshaw, Roger Allam
This bitter sweet comedy follows protagonist Robbie as he sneaks into the maternity hospital to visit his young girlfriend Leonie and hold his newborn son Luke for the first time. Overwhelmed by the moment, he swears that Luke will not have the same tragic life he has had. Escaping a prison sentence by the skin of his teeth, he's given one last chance. While serving a community service order, he meets Rhino, Albert and Mo who, like him, find it impossible to find work because of their criminal records. Little did Robbie imagine how turning to drink might change their lives - not cheap fortified wine, but the best malt whiskies in the world. Will it be 'slopping out' for the next twenty years, or a new future with 'Uisge Beatha' the 'Water of Life?' Only the angels know……..
Fresh from picking up one of the top prizes at the Cannes Film Festival, Ken Loach's latest collaboration with Scottish screenwriter Paul Laverty is a raw, sparky and grimly funny comedy drama filmed and set in Glasgow.




It opens with a variety of reprobates up in court being sentenced, who are then brought together to paint halls and clean up graveyards as part of their community payback. One young man, Robbie (Paul Brannigan), has been spared jail by the skin of his teeth, and is required to do 300 hours of service.

He's also about to become a father, though his girlfriend's father has other ideas about his involvement, her family of thugs making it clear they want Robbie to have nothing to do with the baby.




We're presented with an intriguing character in Robbie, one whom we're asked to side with despite his criminal past. His violent temper is something he needs to learn to control, and in one particularly harrowing scene he's shown the consequences of his actions, as the victim he assaulted describes the senseless attack.




It could have been easy for the audience to lose its sympathy for Robbie at this point, but this is a film about first impressions and second chances, and that chance is given to Robbie by Harry (John Henshaw), his community service coordinator.

Harry is mad keen on whisky, and when Robbie demonstrates a quick knack and knowledge for the water of life, Harry takes him and his pals on a tour of a distillery, the movie's title referring to the amount of spirit, about 2%, that evaporates each year from the casks.




With fatherhood offering Robbie his last chance to pull his life together, the question is whether he can he use his whisky skills to make a better life for himself and his new family, or if his past will catch up to him.




Though it can sometimes seem like two different films, the chummy whisky comedy on one hand, and a dark and dangerous life of violence on the other, both elements come together successfully thanks to Laverty's trademark salty and realistic dialogue that pulls no punches with its language, and Loach's unfussy direction that allows the action to flow freely and naturally.

The authenticity of his casting also helps, with the roles filled largely by newcomers with lived-in faces. Truth be told, some of the actors do more convincing work when they're being asked to be their rough and ready selves, than when they're given lines of plot to recite, but for the most part everyone impresses.




The result is many fine moments, but perhaps just a hint of corner-cutting in the writing. It's a bit of a leap for Robbie to go from ned to whisky loving expert, and it all gets wrapped up a bit too neatly and conveniently, which might be a problem if this were one of Loach's more gritty dramas.

But it's essentially a fairytale, a rather fanciful blend that succeeds partly because it's so funny, but mostly because of the filmmaking skill brought to it by its director and writer.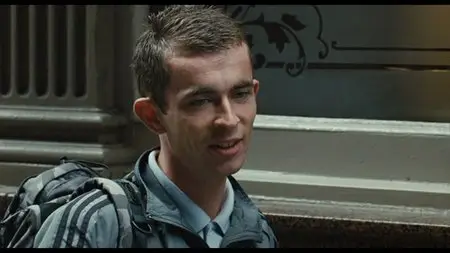 Special Features:
- Deleted Scenes (13:34)
- Distilling The Angels' Share (22:15)
- Audio Description
All Credits goes to Original uploader.