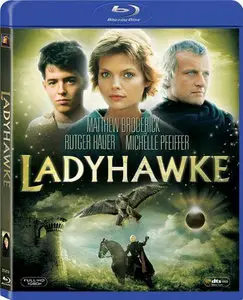 Ladyhawke (1984)
BluRayrip | MPEG-4 Visual | AVI | 640x272 | Xvid @ 1059 Kbps | AC3 @ 640 Kbps CBR | 01:56:13 | 1.4 Gb
Languages Available: Italian | Subtitle: No
Genre: Fantasy
In un borgo fortificato del Medio Evo francese, ha la sua corte un vescovo-signore. Ma è un uomo dall'animo malvagio e corrotto. Invaghitosi di Isabella d'Angiò, la fidanzata del capo delle guardie - Etienne Navarre - colpisce la giovane e bella coppia con la sua maledizione. Così Etienne è condannato ad andarsene ramingo ed ogni notte a trasformarsi in lupo, mentre la donna lo segue: ma sarà tale solo di notte anche lei, mentre di giorno non è che un falco, aggrappato al pugno dell'amato. Durante una delle sue malinconiche peregrinazioni, il cavaliere incontra Philippe (detto "il topo"), un ladruncolo evaso dalle segrete del castello vescovile e lo salva dagli armigeri, che cercano lui e Etienne stesso con il suo prezioso falcone. Il ragazzo gli si affeziona, viaggia con lui ed un giorno accompagna Isabella dal monaco Imperius, perché il falcone è stato ferito da una freccia e solo il monaco, ubriacone, mezzo mago ma saggio e che vive isolato tra i ruderi di un antico maniero, può salvarla dalla morte. lmperius riesce nell'intento. Philippe, che volta a volta è stato spettatore delle due trasformazioni, riesce anche a salvare Etienne, una notte in cui il lupo sta per affogare in mezzo al ghiaccio. I quattro alla fine si riuniranno nel borgo, durante una cerimonia alla presenza del vescovo. Mentre il ragazzo penetra nella Chiesa attraverso le fogne, Etienne vi irrompe a cavallo, sfida a duello il perfido capitano delle guardie (suo successore ed anima nera del vescovo) e lo uccide. In quel momento si produce un'eclisse solare: nel sortilegio che aveva colpito i due fidanzati era previsto che, in un momento "né di giorno, né di notte", la maledizione sarebbe cessata. E così avviene. Etienne uccide il vescovo terrorizzato e fugge a cavallo con Isabella, mentre "il topo" decide di restare con il vecchio amico Imperius.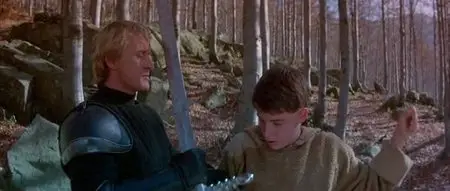 EnglishIMDB Rating: 6.0/10
Philipe Gastone, a thief, escapes from the dungeon at Aquila, sparking a manhunt. He is nearly captured when Captain Navarre befriends him. Navarre has been hunted by the Bishop's men for two years, ever since he escaped with the Lady Isabeau who the Bishop has lusted after. Navarre and Isabeau have a curse that the Bishop has placed on them that causes Navarre to be a wolf during the night and Isabeau to be a hawk during the day. Navarre insists that Philipe help him re-enter the city to help him kill the heavily guarded Bishop.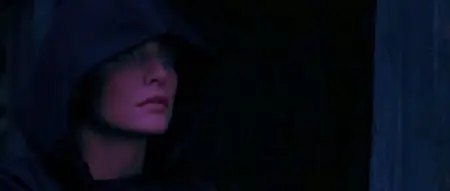 [ Info sul file ]

Nome: Ladyhawke.1985.iTALiAN.BDRip.XviD-TRL.CD1.avi
Data: 4/04/2011 10:20:33
Dimensione: 733,847,552 bytes (699.852 MB)

[ Info generiche ]

Durata: 00:57:16 (3435.617645 s)
Tipo di contenitore: AVI OpenDML
Streams totali: 2
Tipo stream n. 0: video
Tipo stream n. 1: audio
Audio streams: 1
ISFT: VirtualDubMod 1.5.10.2 (build 2540/release)
JUNK: VirtualDubMod build 2540/release

[ Dati rilevanti ]

Risoluzione: MEDIA (640 x 272)
Larghezza: multipla di 32 (BENE)
Altezza: multipla di 16 (BENE)

[ Traccia video ]

FourCC: xvid/XVID
Risoluzione: 640 x 272
Frame aspect ratio: 40:17 = 2.352941 (~2.35:1)
Pixel aspect ratio: 1:1 = 1
Display aspect ratio: 40:17 = 2.352941 (~2.35:1)
Framerate: 23.974146 fps
Frames totali: 82366
Stream size: 454,914,909 bytes
Bitrate: 1059.291122 kbps
Qf: 0.253818
Key frames: 705 (0; 250; 500; 750; 1000; … 82317)
Null frames: 0
Min key int: 1
Max key int: 250
Key int medio: 116.831205
Ritardo: 0 ms

[ Traccia audio ]

Audio tag: 0x2000 (AC3)
Bitrate (contenitore): 640 kbps CBR
Canali (contenitore): 6
Frequenza (contenitore): 48000 Hz
Chunks: 82356
Stream size: 274,849,412 bytes
Preload: 480 ms
Max A/V diff: 498 ms
Chunk-aligned: No
Mode: 3 front, 2 rear, 1 LFE
Ritardo: 0 ms

[ Info sulla codifica MPEG4 ]

User data: XviD0050
QPel: No
GMC: No
Interlaced: No
Aspect ratio: Square pixels
Quant type: MPEG

[ Profile compliancy ]

Profilo da testare: MTK PAL 6000
Risoluzione: Ok
Framerate: 23.974146 <> 25
Avvertenza: Se vuoi un rapporto più completo e preciso clicca su "Analisi DRF"

Rapporto generato da AVInaptic (18-11-2007) in data 10 ago 2011, h 00:26:08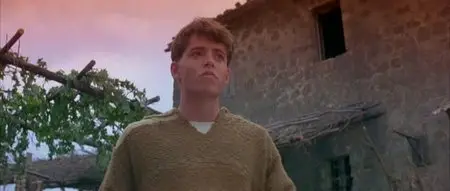 REGIA: Richard Donner
SCENEGGIATURA: Edward Khmara, Tom Mankiewicz, Michael Thomas, David Webb Peoples
ATTORI: Matthew Broderick, Michelle Pfeiffer, Rutger Hauer, Leo McKern, John Wood, Ken Hutchison, Alfred Molina, Giancarlo Prete, Loris Loddi, Alessandro Serra, Charles Borromel, Massimo Sarchielli, Nicolina Papetti, Venantino Venantini, Russel Case, Don Hudson
Ruoli ed Interpreti
FOTOGRAFIA: Vittorio Storaro
MONTAGGIO: Stuart Baird
MUSICHE: Andrew Powell
PRODUZIONE: LAUREN SHULER PER 20TH CENTURY FOX, WARNER BROS.
DISTRIBUZIONE: FOX (1985) - 20TH CENTURY FOX HOME ENTERTAINMENT
PAESE: USA 1984
GENERE: Fantasy
DURATA: 116 Min
FORMATO: Colore SCOPE TECHNICOLOR

Filesonic.com

|

Wupload.com

|

Uploadstation.com



Clicca QUI per gli altri film in formato BluRayrip Avi Xvid postati su AvaxHome
Please DO NOT MIRROR
If you'll find that my links are dead please let me know through the Private Messages.
>>> Visit edi1967 Blog Here <<<