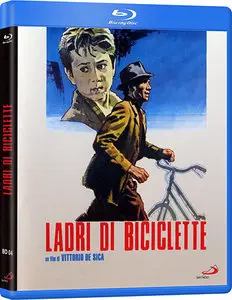 Ladri di Biciclette (1948)
Bicycle Thieves
BluRayrip | MPEG-4 Visual | AVI | 640x480 | Xvid @ 1924 Kbps | AC3 @ 224 Kbps CBR | 01:30:40 | 1.4 Gb
Languages Available: Italian | Subtitle: No
Genre: Drama
Un operaio disoccupato trova un posto d'attacchino municipale, ma ci vuole la bicicletta. L'operaio ne possiede una ma è al monte di pietà. Niente paura: la moglie impegna le lenzuola e riscatta la bicicletta. L'attacchino incomincia il suo lavoro, ma dopo meno di un'ora, un ragazzaccio gli ruba questa preziosa bicicletta. Tenta d'inseguirlo ma è inutile. L'uomo ritorna a casa in preda alla disperazione. Denuncia il furto al Commissariato, ma non gli danno nessuna speranza. Nessuno prende interesse al suo caso all'infuori di un amico spazzino. L'attacchino si aggira tra i rivenditori di biciclette: non trova la sua, ma intravede il ladro e si dà ad inseguirlo, accompagnato dal figliolo, un bimbo di sei anni. L'inseguimento gli fa attraversare tutta Roma in un giorno di domenica: vediamo così la "messa del povero", una trattoria, una casa equivoca, infine il domicilio del ladruncolo. L'attacchino trova dovunque indifferenza od ostilità. Infine, esasperato, pensa di rivalersi, rubando una bicicletta incustodita, ma lo fa così goffamente che viene subito preso e solo i pianti del bambino lo salvano dall'arresto. Padre e figlio tornano a casa, esausti, disperati, piangenti.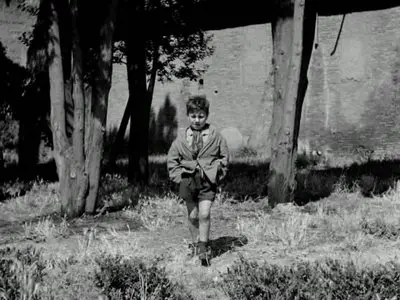 EnglishIMDB Rating: 8.5/10
A poor young father in postwar-ravaged Rome who finally finds work putting up Rita Hayworth posters around town, only to have his precious bicycle stolen the first day on the job. In a light moment as the father and his young son chase after the thief, the boy attempts to relieve himself against a wall, and his father lets him know they don't have time for that. In another scene, the father tracks the thief into the kitchen of a brothel.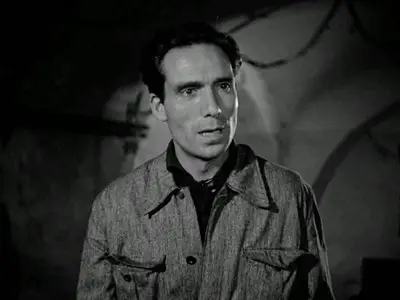 [ Info sul file ]

Nome: Ladri.Di.Biciclette.1948.iTALiAN.BRRip.XviD-EgL.avi
Data: 28/04/2011 22:33:00
Dimensione: 1,467,762,688 bytes (1399.768 MB)

[ Info generiche ]

Durata: 01:30:40 (5440.074629 s)
Tipo di contenitore: AVI OpenDML
Streams totali: 2
Tipo stream n. 0: video
Tipo stream n. 1: audio
Audio streams: 1
ISFT: VirtualDubMod 1.5.10.2 (build 2540/release)
JUNK: VirtualDubMod build 2540/release

[ Dati rilevanti ]

Risoluzione: MOLTO ALTA (640 x 480)
Larghezza: multipla di 32 (BENE)
Altezza: multipla di 32 (BENE)

[ Traccia video ]

FourCC: xvid/XVID
Risoluzione: 640 x 480
Frame aspect ratio: 4:3 = 1.333333
Pixel aspect ratio: 1:1 = 1
Display aspect ratio: 4:3 = 1.333333
Framerate: 24.000038 fps
Frames totali: 130562
Stream size: 1,309,011,254 bytes
Bitrate: 1924.990141 kbps
Qf: 0.261093
Key frames: 902 (0; 300; 600; 900; 1200; … 130350)
Null frames: 0
Min key int: 1
Max key int: 300
Key int medio: 144.747228
Ritardo: 0 ms

[ Traccia audio ]

Audio tag: 0x2000 (AC3)
Bitrate (contenitore): 224 kbps CBR
Canali (contenitore): 2
Frequenza (contenitore): 48000 Hz
Chunks: 130551
Stream size: 152,321,792 bytes
Preload: 480 ms
Max A/V diff: 499 ms
Chunk-aligned: No
Mode: stereo
Ritardo: 0 ms

[ Info sulla codifica MPEG4 ]

User data: XviD0063
QPel: No
GMC: No
Interlaced: No
Aspect ratio: Square pixels
Quant type: MPEG

[ Profile compliancy ]

Profilo da testare: MTK PAL 6000
Risoluzione: Ok
Framerate: 24.000038 <> 25
Avvertenza: Se vuoi un rapporto più completo e preciso clicca su "Analisi DRF"

Rapporto generato da AVInaptic (18-11-2007) in data 10 ago 2011, h 00:46:33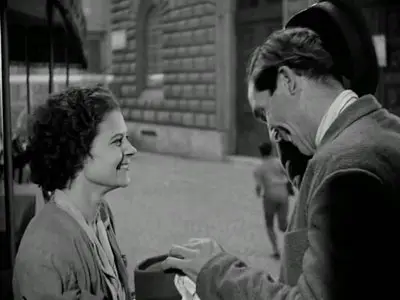 REGIA:
Vittorio De Sica
SCENEGGIATURA: Oreste Biancoli, Cesare Zavattini, Suso Cecchi d'Amico, Adolfo Franci, Gherardo Gherardi, Vittorio De Sica, Gerardo Guerrieri
ATTORI: Lamberto Maggiorani, Enzo Staiola, Lianella Carell, Elena Altieri, Gino Saltamerenda, Vittorio Antonucci, Giulio Chiari, Mario Meniconi, Ida Bracci Dorati, Fausto Guerzoni, Carlo Jachino, Sergio Leone, Massimo Randisi, Checco Rissone, Michele Sakara, Peppino Spadaro, Nando Bruno, Eolo Capritti, Giovanni Corporale, Emma Druetti
Ruoli ed Interpreti
FOTOGRAFIA: Carlo Montuori
MONTAGGIO: Eraldo Da Roma
MUSICHE: Alessandro Cicognini
PRODUZIONE: PRODUZIONI DE SICA
DISTRIBUZIONE: ENIC
PAESE: Italia 1948
GENERE: Drammatico
DURATA: 90 Min
FORMATO: B/N
Soggetto:romanzo omonimo di Luigi Bartolini
Note
:
- SERGIO LEONE HA PRESO PARTE AL FILM NEL RUOLO DI UN GIOVANE SEMINARISTA.- PREMIO OSCAR 1949 PER IL MIGLIOR FILM STRANIERO (CHE FINO AL 1955 SI CHIAMERA' SOLO "PREMIO SPECIALE") IL SECONDO PER DE SICA CHE LO AVEVA GIA' VINTO CON "SCIUSCIA' " NEL 1946.- CANDIDATO ALL'OSCAR PER LA MIGLIOR SCENEGGIATURA.- NASTRO D'ARGENTO 1949 PER: MIGLIOR FILM, SOGGETTO, REGIA, SCENEGGIATURA, FOTOGRAFIA, MUSICA.- PREMIO SPECIALE DELLA GIURIA AL IV FESTIVAL DI LOCARNO 1949.- GRAN PREMIO AL FESTIVAL MONDIALE DEL FILM E DELLE ARTI DEL BELGIO 1949.- PREMIO AL BRITISH FILM ACADEMY 1950.- NEL 1958 E' STATO GIUDICATO "SECONDO MIGLIOR FILM DI TUTTI I TEMPI" ALLA CONFRONTATION DI BRUXELLES.- IL BRITISH FILM INSTITUTE LO HA INSERITO NELLA CLASSIFICA, STILATA NEL 2005, DELLE 50 OPERE PIÙ ADATTE A UN PUBBLICO GIOVANE.- IL FILM E' STATO RESTAURATO NEL LUGLIO 2002 PER IL CENTENARIO DELLA NASCITA DI VITTORIO DE SICA (7 LUGLIO 1902)

Filesonic.com

|

Wupload.com

|

Fileserve.com



Clicca QUI per gli altri film in formato BluRayrip Avi Xvid postati su AvaxHome
Please DO NOT MIRROR
If you'll find that my links are dead please let me know through the Private Messages.
>>> Visit edi1967 Blog Here <<<