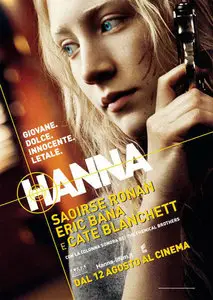 Hanna (2011)
BluRayrip MD | MPEG-4 Visual | AVI | 720x304 | Xvid @ 1350 Kbps | Mp3 @ 128 Kbps CBR | 02:01:11 | 1.3 Gb
Languages Available: Italian | Subtitle: No
Genre: Drama
Hanna (Saoirse Ronan) ha sedici anni. E' una ragazza brillante,curiosa e una figlia devota. Unica nel possedere la forza, la resistenza e la furbizia di un soldato; queste caratteristiche gli vengono dall'essere stata cresciuta dal padre vedovo Erik (Eric Bana), un ex-agente della CIA, nelle zone selvagge del nord della Finlandia. Erik aveva insegnato ad Hanna a cacciare, l'aveva addestrata con esercizi speciali di autodifesa e l'aveva educata a casa con il solo uso di un'enciclopedia e di un libro di favole. Hanna aveva vissuto una vita differente dagli altri ragazzi; la sua educazione ed il suo addestramento erano un tutt'uno, entrambi orientati a renderla l'assassino perfetto. Ma nel mondo esterno ci sono affari irrisolti per la famiglia di Hanna, ed è con un misto di orgoglio ed apprensione che Erik comprende che sua figlia non può più essere trattenuta.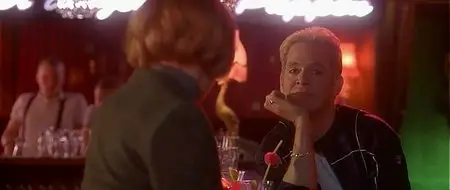 English
Hanna (Ronan) is a teenage girl. Uniquely, she has the strength, the stamina, and the smarts of a soldier; these come from being raised by her father (Bana), an ex-CIA man, in the wilds of Finland. Living a life unlike any other teenager, her upbringing and training have been one and the same, all geared to making her the perfect assassin. The turning point in her adolescence is a sharp one; sent into the world by her father on a mission, Hanna journeys stealthily across Europe while eluding agents dispatched after her by a ruthless intelligence operative with secrets of her own (Ms. Blanchett). As she nears her ultimate target, Hanna faces startling revelations about her existence and unexpected questions about her humanity.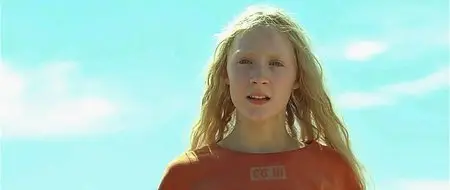 [ Info sul file ]

Nome: Hanna.2011.iTALiAN.MD.BDRip.XviD-BmA.CD1.avi
Data: 13/08/2011 00:18:59
Dimensione: 655,138,332 bytes (624.789 MB)

[ Info generiche ]

Durata: 00:58:42 (3522.369364 s)
Tipo di contenitore: AVI OpenDML
Streams totali: 2
Tipo stream n. 0: video
Tipo stream n. 1: audio
Audio streams: 1
JUNK: VirtualDub build 32661/release

[ Dati rilevanti ]

Risoluzione: ALTA (720 x 304)
Larghezza: multipla di 16 (BENE)
Altezza: multipla di 16 (BENE)

[ Traccia video ]

FourCC: xvid/XVID
Risoluzione: 720 x 304
Frame aspect ratio: 45:19 = 2.368421 (~2.35:1)
Pixel aspect ratio: 1:1 = 1
Display aspect ratio: 45:19 = 2.368421 (~2.35:1)
Framerate: 24.000038 fps
Frames totali: 84537
Stream size: 594,613,993 bytes
Bitrate: 1350.486406 kbps
Qf: 0.257082
Key frames: 1262 (0; 250; 500; 507; 757; … 84483)
Null frames: 0
Min key int: 1
Max key int: 250
Key int medio: 66.986529
Ritardo: 0 ms

[ Traccia audio ]

Audio tag: 0x55 (MP3)
Bitrate (contenitore): 128 kbps CBR
Canali (contenitore): 2
Frequenza (contenitore): 48000 Hz
Chunks: 84526
Stream size: 56,357,910 bytes
Preload: 480 ms
Max A/V diff: 499 ms
Tipo: MPEG-1 Layer III
Chunk-aligned: No
Emphasis: none
Mode: joint stereo
Ritardo: 0 ms

[ Info sulla codifica MPEG4 ]

User data: XviD0050
QPel: No
GMC: No
Interlaced: No
Aspect ratio: Square pixels
Quant type: H.263

[ Profile compliancy ]

Profilo da testare: MTK PAL 6000
Risoluzione: Ok
Framerate: 24.000038 <> 25
Avvertenza: Se vuoi un rapporto più completo e preciso clicca su "Analisi DRF"

Rapporto generato da AVInaptic (18-11-2007) in data 13 ago 2011, h 12:03:45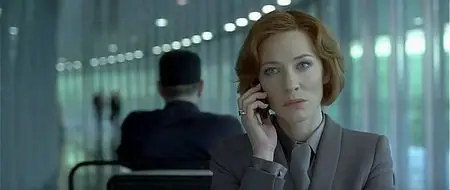 Titolo originale: Hanna
Nazione: U.S.A., Regno Unito, Germania
Anno: 2011
Genere: Drammatico
Durata: 120'
Regia: Joe Wright
Sito ufficiale:
www.hannathemovie.com
Sito italiano:
www.hanna-ilfilm.it
Cast: Cate Blanchett, Saoirse Ronan, Eric Bana, Olivia Williams, Michelle Dockery, Dee Bradley Baker, Tom Hollander, Jessica Barden, John MacMillan, Cyron Bjørn Melville, Nathan Nolan, Paris Arrowsmith
Produzione: Marty Adelstein Productions
Distribuzione: Sony Pictures Releasing Italia
Data di uscita: 12 Agosto 2011 (cinema)

Filesonic.com

|

Wupload.com

|

Filepost.com



Clicca QUI per gli altri film in formato TS MD postati su AvaxHome
Please DO NOT MIRROR
If you'll find that my links are dead please let me know through the Private Messages.
>>> Visit edi1967 Blog Here <<<