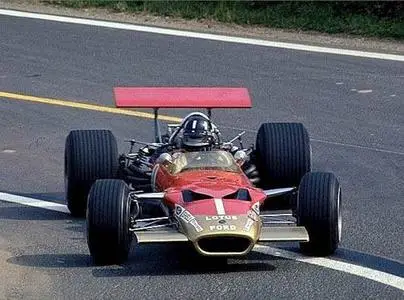 Formula one. Season 1970. Review
English | 52min | 720 x 576 | DVD & MP4 | 3.4 GB & 1.4 GB
A TIME OF TRIUMPHS AND TRAGEDIES
It is a new decade and with this comes a whole new order. By 1970 the 'three-litre' Formula, which had been going for four years, had reached a state of maturity, with considerable advancement on both technical and sporting levels. This should have been due for replacement by the end of 1971. However, the International Sporting Commission of the FIA granted an extension to allow teams to consolidate somewhat since the sport was becoming ever-more expensive.
A year earlier F1 fields had been somewhat thin and race organisers were worried. But by 1970 there were probably a score of reliable, substantial entries for each event. Unfortunately, some teams decided to increase their financial demands, which the organisers would not accept. Thus came about the Geneva Agreement, forerunner of today's Concorde Agreement. Far from being an agreement it caused bitter controversy and confusion initially but, after much argument, the existing system of paying start money was replaced by one based on results and all was well.
Safety was a growing concern in 1970. Three top F1 drivers lost their lives: Bruce McLaren perished while testing one of his Can-Am sports cars at Goodwood, Piers Courage died in a terrible fiery crash during the Dutch Grand Prix driving Frank Williams's De Tomaso, and by the end of the year F1 had a posthumous World Champion, Lotus driver Jochen Rindt, who was killed in practice for the Italian Grand Prix. It is extremely unlikely that any of these accidents would have been fatal now, given the exponential development of race car design and materials since then.
An example of the safety issue was that the Grand Prix Drivers' Association announced that its members would boycott the Spa-Francorchamps circuit where the Belgian GP was to be held. Eventually they settled for a 'moving scale' of starting times if conditions were wet, to avoid visibility and aquaplaning hazards on what was indeed a very fast track. In the end the weather was fine and the race was run without problems, resulting in a splendid win for Pedro Rodriguez's BRM.
Technically the Lotus 72 - despite being criticised by some as fragile - must be considered the 'Car of the Year', having won both the Drivers' and the Constructors' Championships. However, the 'new kids on the block', Robin Herd's and Max Mosley's March Engineering, started off their F1 career with a flourish by selling two cars to Ken Tyrrell, following his split from Matra. Although Jackie Stewart won both the non-championship F1 Race of Champions and the Spanish GP, it soon became clear that the 701 was not good enough and Ken Tyrrell quietly constructed his own Derek Gardner-designed Tyrrell 001, unveiling this at Oulton Park in August.
Overt sponsorship, started in F1 by Lotus in 1968 with backing from Gold Leaf, was still relatively low key but increased dramatically, while one of the most historically significant factors of 1970 was the introduction of 'slick' tyres by Goodyear and Firestone. Dunlop withdrew at the end of the season.