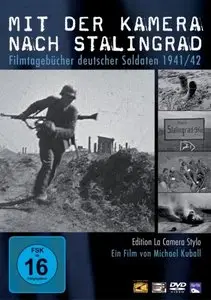 Mit der Kamera nach Stalingrad (2009)
DivX 5 720x546 25.00fps 2904Kbps | German MP3 stereo 160Kbps | no subs | 01:04:42 | 1.38 GB
WWII Documentary | Polar Film + Medien GmbH | 25. November 2009
Filmtagebücher deutscher Soldaten 1941/1942. Deutsche Soldaten der 29. Infanterie-Division (mot) marschierten im Juni 1941 in Russland ein und erreichten im September 1942 Stalingrad. Einer von ihnen hat mit seiner privaten Filmkamera diesen Feldzug festgehalten - unzensiert und ungeschnitten. WWII on the East Front filmed by a German soldier in 1941-42 and commented 70 years later by his comrades.
Das Bildmaterial ist überwiegend als interessant zu werten, da hier aus privater Perspektive -im Gegensatz zum bekannten Wochenschaumaterial- Eindrücke der russischen Geografie, die Einflüsse des Wetters oder das Leben der Soldaten in Kampfpausen gezeigt werden. Soweit OK, aber !!!
Begleitet wird das Ganze vom Kommentar ehemaliger Veteranen, der teilweise von Banalität bis Dümmlichkeit reicht. Wenn brennende Häuser immerwieder mit "schrecklich" kommentiert werden, mag das zweifellos zutreffen, wenn darüber hinaus aber nicht mehr vermittelt wird muß sich der Betrachter, der diese Ereignisse nicht persönlich erlebt hat, etwas verloren fühlen. An anderer Stelle wird ein Strassenschild gezeigt "Stalingrad 9Km", dieses wird im Kommentar darin begleitet in dem dieses Schild mehrfach vorgelesen wird, dann aber nichts weiter gesagt wird. Falls die teilweise groteske Sprachlosigkeit der Kommentatoren als Betroffenheit gewertet werden soll, irritiert die Distanziertheit zu Bildern gehängter Russen.