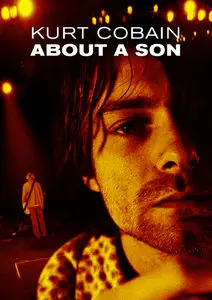 Kurt Cobain: About a Son / Курт Кобейн: Рассказ о сыне (2006)
DVD-Rip | English, Russian | 01:36:54 | 704x304 | 25.00fps | XviD | MPEG Audio 192Kbps 44.1kHz stereo | 691MB
Genre: Documentary | Music
The film is served 25 hours of audio interviews with Cobain, a musician who gave in the early 1990's, when the journalist Michael Azerrad (Michael Azerrad) worked on the book «Come As You Are: The Story of Nirvana». On the basis of these records director AJ Schnack (AJ Schnack) has created a kind of reflection on the life of a man who has had a significant impact on the music of the 90's.
In a series of previously unreleased recordings Cobain recalls his childhood and youth, talks about his acquaintance with the music, conceptualize its rise to fame and her burden. With the alternation of interviews and photos in Aberdeen, Olympia, Seattle director creates a ghostly journey into the depths often discussed, but he misunderstood legend. The film's soundtrack are the songs of Kurt Cobain's favorite artists - David Bowie, Iggy Pop, The Melvins, The Breeeders etc.