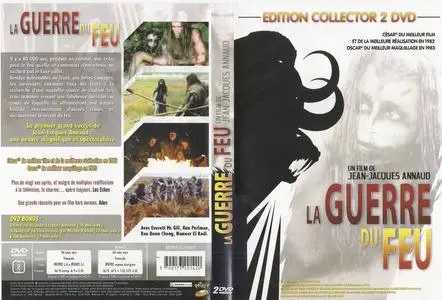 La Guerre du Feu (DVD Rip)
699 MB | Video: xvid4 889 kbps 25 fps 544x304 (16:9) | audio mp3 128 kbps | LANG : FR,EN, all (no dialog)
Réalisé par Jean-Jacques Annaud
Avec Everett McGill, Rae Dawn Chong, Ron Perlman
Film canadien, français, britannique.
Genre : Aventure, Historique
Durée : 1h 35min.
Date de sortie 16 décembre 1981
Date de sortie DVD : 23 jan 2003
A l'époque de l'âge de pierre, trois guerriers d'une tribu d'homo sapiens partent à la recherche du feu, élément magique vénére mais redouté, objet de convoitises et de luttes pour la survie de l'espèce.
La Guerre du feu est aussi l'histoire d'un homme empêché dans sa volonté de pourvoir à la survie des siens par un ennemi intérieur qui se nomme l'amour. Il passe des rapports de dominance à un rapport émotionnel.
In "Quest for Fire" ("La Guerre du Feu 1981) French Cesar Award, Academy of Sci-fi Award and Best Make-up Oscar, tell the story of a cave-man in search of fire, with a vocabulary almost reduced to grunts and growls.
A Cro-Magnon tribe is deprived, after a combat, of its major treasure: fire. They know the value of fire but hasn't the technique to produce it by themselves. So a group of three tribe-men start the Quest for Fire, a sort of prehistoric Grail Quest. In their journey they encounter other tribes with different stages of culture; ranging from bestial cannibalistic to fire "technocrats".They have time to rescue an endangered stone-age lady and of course the hero falls in love with her… and discovers many interesting new possibilities.
There is an amazing anthropological reconstruction work by far better than other filmic intents as "The Clan of the
Cave Bear". Anthony Burgess (author of "The Mechanical Orange") has created a neo-lingua for this movie and Desmond Morris (author of "The Naked Ape") all corporal and gestural language.