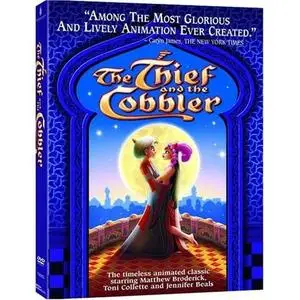 The Princess and the Cobbler (DVD-Rip)
AVI DivX | Video: 154 Kbps, 528 x 384 | MP3 128 Kbps
699 MB | 77 min | English language
Filled with exotic locales, captivating music and an all-star cast, this enchanting animated adventure is sure to delight the entire family. In the ancient city of Baghdad, a shy shoemaker named Tack (Matthew Broderick) falls deeply in love with the adventure-loving Princess Yum-Yum (Jennifer Beals). When the evil wizard Zig-Zag threatens to destroy their beloved city, it's up to Tack and the Princess to defeat his nefarious plot and save their home from destruction. Directed by Academy Award®-winning animator Richard Williams (Who Framed Roger Rabbit?), the magic of ARABIAN KNIGHT will steal your heart!