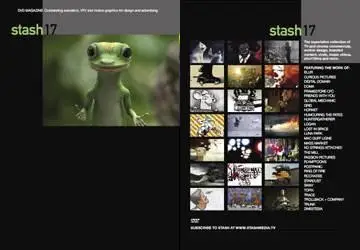 Stash - 17 - Xvid
Video: Format Xvid, Bitrate 1710 kb/s 720x480 | audio 190 Kbps | 700 Mb | Rs.com
Strap yourself in. Stash 17 is a whiplash-inducing ride through an incredibly diverse collection of projects. Twenty-nine more international examples of passionate people breaking rules and trampling visual barriers in the animation, VFX and motion design world.
We start Stash 17 off slow and dreamy with the balletic CG piece for Honda from Lost in Space and Zeitguised then divert all power to the main thrusters for The Mill NY's frenetic new "Kung Fu Clowns" spot for Bell South. A cast of comic CG characters - polar bears for Coke from Passion Pictures, a wily turkey for Thornton's from the Mill in London and the new 3D Geico Gecko from Framestore NY - keep the momentum going before we slow down again for epic VFX pieces from Mass Market for Siemens and from Digital Domain for the Motorola Pebl phone.
Then the curves come fast and furious in a completely unpredictable stretch of broadcast work from big and mainstream like the Olympics spot from NBC and Ring of Fire and the anime-inspired Spike TV promos from Curious Pictures, to quirky, surreal, twisted and just damn strange pieces from Doma/Friends With You, PostPanic, HunterGatherer, Oddworld Inhabitants and Barcelona-based Zinestesia.