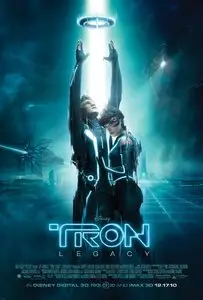 TRON: Legacy (2010)
720p BluRay Rip | English | mkv | 1280x720 | Video: x264 @ 5965 Kbps | Audio: DTS @ 1510 Kbps | 125 mins | 6.64 GB
Director: Joseph Kosinski | Writers: Edward Kitsis, Adam Horowitz | Stars: Jeff Bridges, Garrett Hedlund, Olivia Wilde
Nominated for Oscar. Another 1 win & 5 nominations
Genre: Action / Adventure / Sci-Fi
Sam Flynn, the tech-savvy 27-year-old son of Kevin Flynn, looks into his father's disappearance and finds himself pulled into the same world of fierce programs and gladiatorial games where his father has been living for 20 years. Along with Kevin's loyal confidant, father and son embark on a life-and-death journey across a visually-stunning cyber universe that has become far more advanced and exceedingly dangerous.
IMDB info
Screenshots (click to enlarge to original size):