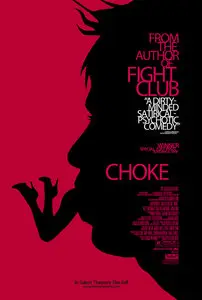 Choke / Удушье (2008)
DVD-Rip | English, Russian | 1:32:08 | 704 x 368 | 24fps | XviD | AC3 - 192 Kbps | 1.36 GB
Genre: Comedy | Drama
Based on Chuck Palahniuk's (Fight Club) pitch-black comedic novel. Victor Mancini (Sam Rockwell) has got some problems - when he's not at Sex Addicts Anonymous meetings hunting for women to bed, he masquerades as a choking victim in restaurants as a scheme to gather money from unsuspecting strangers, which he uses to keep his ailing mother (Anjelica Huston) in a high-end extended-care facility for her extreme dementia. But what happens when this messed up Colonial-era theme-park employee finds Mrs. Right in the guise of his mother's doctor - and how can he give their relationship a try when she tells him he's the next coming of Jesus Christ?