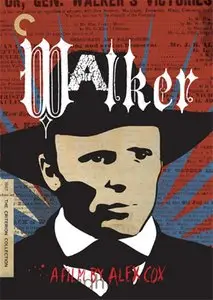 Walker / Уокер (1987)
DVD-Rip | English, Russian | 1:35:08 | 720 x 384 | 25fps | DivX | mp3 - 128 Kbps | 1.36 GB
Genre: Action | Adventure | Drama | History | War | Western
Alex Cox directed this hallucinatory bio-pic starring Ed Harris as 19th-century American adventurer William Walker, who abandoned a series of careers in law, politics, journalism, and medicine to become a soldier of fortune and eventually a Nicaraguan dictator. When his deaf wife (Marlee Matlin) dies of cholera (but not before she utilizes sign language to tell Walker "To Hell with Manifest Destiny"), Walker is backed by multi-millionaire banker Cornelius Vanderbilt (Peter Boyle) to lead a band of mercenaries to Nicaragua in 1855 to make the country safe for Vanderbilt's steamships. When Walker subdues the Nicaraguan opposition, he sets himself up as president and rules the country with unfeeling repression. Finally the Nicaraguans rise up against him, figuring out that "the mad gringo is ripping us off."