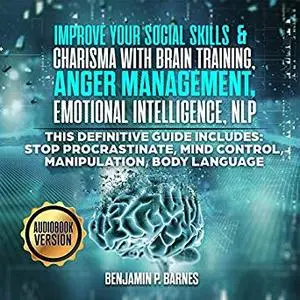 Benjamin P. Barnes, Jordan Reader (Narrator), Gary Gabbard (Narrator), David Martin (Narrator), "Improve Your Social Skills and Charisma With Brain Training, Anger Management, Emotional Intelligence, NLP: This Definitive Guide Includes: Stop Procrastinate, Mind Control, Manipulation, Body Language"
ASIN: B07ZPKJLHC | 2019 | M4A@128 kbps | ~22:08:00 | 1,22 GB
This definitive guide Includes: Stop procrastinate, mind control, manipulation, body language.
Did you ever thought that you need a turn in your life? Procrastinating, anger, low focus, are a part of your everyday life? If you need a change, just keep reading!
Social skills are the skills we use to communicate and interact with each other, both verbally and non-verbally, through gestures, body language, and our personal appearance.
Human beings are sociable creatures and we have developed many ways to communicate our messages, thoughts, and feelings with others. But sometimes, the stress is more than your body can support and you begin to behave differently.
Understanding and improving your social skills will support your efforts in every area of life. In this book you will find all the information you need to improve your social life!
Here it is what you will find inside:
The best way to improve your social skills is to put your learning into practice. A background demonstrating success with social skills will serve you well in many areas of life.
So what are you still waiting for? Buy this book today!