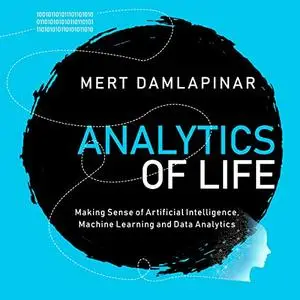 Analytics of Life: Making Sense of Artificial Intelligence, Machine Learning and Data Analytics [Audiobook] by Mert Damlapinar
English | May 08, 2020 | ASIN: B087W1WD8F | MP3@128 kbps | 8h 18m | 456 MB
Narrator: Michael Campobasso
Analytics of Life provides the listener with a broad overview of the field of data analytics and artificial intelligence. It provides the layperson an understanding of the various stages of artificial intelligence, the risks and powerful benefits. And it provides a way to look at big data and machine learning that enables us to make the most of this exciting new realm of technology in our day-to-day jobs and our small businesses.
Questions you can find answers:
What is artificial intelligence (AI)?
What is the difference between AI, machine learning and data analytics?
Which jobs AI will replace, which jobs are safe from data analytics revolution?
Why data analytics is the best career move?
How can I apply data analytics in my job or small business?
Who is this audiobook for?
Managers and business professionals
Marketers, product managers, and business strategists
Entrepreneurs, founders, and startups team members
Consultants, advisers and educators
Almost anybody who has an interest in the future
According to an article by Cade Metz in The New York Times, "Researchers say computer systems are learning from lots and lots of digitized books and news articles that could bake old attitudes into new technology".
Oxford University professor Nick Bostrom argues that if machine brains surpassed human brains in general intelligence, then this new superintelligence could become extremely powerful - possibly beyond our control.
MIT professor Max Tegmark describes and illuminates the recent, ground-breaking advances in Artificial Intelligence and how it might overtake human intelligence.