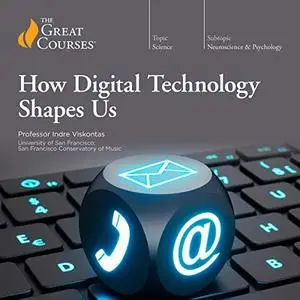 How Digital Technology Shapes Us [Audiobook]
English | ASIN: B08H5XCR4J | 2020 | 10 hours and 37 minutes | MP3 96 kbps | 442 MB
Indre Viskontas, The Great Courses (Author), Professor Indre Viskontas (Narrator)

Most adults are concerned that children have much too much technology in their lives these days and are spending way too much time on screens. But as Professor Indre Viskontas points out in How Digital Technology Shapes Us, we are not the first to worry that new technology will harm our children and future generations. At least since the beginning of recorded history, we have been underestimating the capacity of the human brain to adapt to and take advantage of emerging technologies. In this course, Professor Viskontas shares some of the most exciting research into this relatively new topic, providing a scientific approach to judging the true pros and cons of our interaction with technology in the digital age.
Many of us believe we are adjusting well to this new digital technology with its constant demands on our time and attention by increasing our multitasking. But multitasking cannot save us because our brain is not capable of true multitasking. What we experience as multitasking is actually our brain flitting back and forth from this task to the next to the next to the next. That we can do, but in the process, we could be losing the ability - and opportunity - to perform deep work, the opportunity for deep reading, and the empathy that builds up when we think deeply about people who are different from us, to truly expand the tribe rather than reinforce tribalism.
The good news is that just recognizing the significance of deep work and deep reading, we can make it a priority and arrange some time to focus on just that without distractions. If we do, those pathways that lead to deeper cognition can become reinforced. We can also help our children focus on the positives of digital media, empowering them to connect with others to find purpose, motivation, and support. We can spend time with them to encourage them to find opportunities for deep reading and deep work in age-appropriate ways.
Digital technology definitely shapes us. But once we learn how it does so, we can make good decisions for our ourselves and our children.