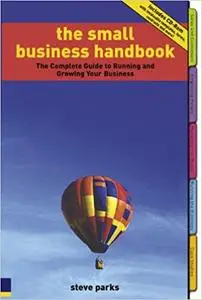 Steve Parks, "The Small Business Handbook: The Complete Guide to Running and Growing Your Business"
English | 2005 | ISBN: 0273695312 | PDF | pages: 217 | 9.5 mb
The Small Business Handbook is THE definitive guide to running and growing your small business.Once you're up and running you need more advice and practical guidance of a different kind to make sure your business thrives and grows, and that you are well equipped to tackle every new situation that arises.
 - This is the replacement for Webb and Webb's Small Business Handbook, the current edition of which has been a high priced bestseller
- Steve Parks is the author of the new highly endorsed and fast selling Start Your Business Week by Week, supported by the website
www.flyingstartups.com He
will have a natural audience who progress on from this to the Small Business Handbook
- The current choice of books on entrepreneurship is largely focussed on starting a business and testing and developing new business ideas. There is a huge demand for a book in this space, for those who are up running and growing.
- The UK's business start up show in November showed the size of the market for these books, the customer's hunger for knowledge and the popularity of PH Bus titles.(7 thousand pounds of PH bus entrep books sold in 2 days). And the customers were asking for a book in this space. 
-Will contain a FREE CD with audio of successful entrepreneurs tips, as well as all the spreadsheets and key documents you need to make your business grow and fly.
- Steve Parks is the founder of the Institute of Entrepreneurs that already has the ear of No.10 Downing St and will be taking off in a big way in 2005. This book will be endorsed and heavily promoted by the Institute throughout the UK.
-POSITIONING:  sits excellently with all our small business titles. It is the customers¿ next step after reading Acorns, Week by Week, Beermat. People hugely multi-purchase in this space.