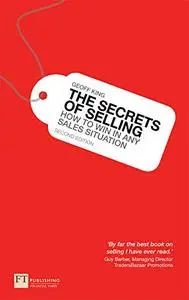 Geoff King, "The Secrets of Selling: How to win in any sales situation"
English | 2010 | ISBN: 0273742329 | PDF | pages: 265 | 4.0 mb
Want to beat your sales target? Buy this book. The new edition of this highly successful sales bible is full of practical tips, tricks and advice and now comes in a smaller, more accessible package.
 The Secrets of Selling, 2nd edition covers all the key areas in a concise and snappy style and is easy to navigate - essential features for the time pressured modern sales professional. It covers the full range of situations that sales people at all levels will encounter, from how to size up your prospective client quickly, to the best time to mention your price. It has a genuinely practical approach - providing you with the tips, tricks and techniques that will help you improve your sales performance.
This new edition has been completely revised and updated throughout. Key changes include:.
- Summaries, in the form of checklists included at each of the three sections.
- A chapter on Body Language, including new information on how to spot lying.
- New information on icebreakers in meetings.