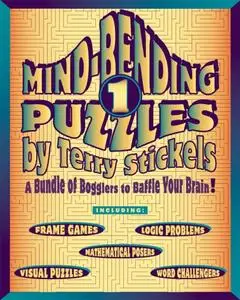 Mind-Bending Puzzles: A Bundle of Bogglers to Baffle Your Brain by Terry Stickels
English | 1998 | ISBN: 0764906909 | 96 pages | Djvu | 3 MB
Welcome!
The puzzles in Mind-Bending Puzzles Volume I have been carefully picked to form a selection that will both challenge and entertain you. My aim is to create puzzles that you can enjoy solving without getting bogged down by complex approaches and equations.The puzzles offered here—"Frame Games," visual/spatial puzzles, word and math problems, series puzzles, and logic problems—vary in difficulty, but each one was chosen to exercise a different aspect of problem solving.There's something here for everyone.
The publishers and I are always happy to hear from you, so please write to us if you have any comments, criticisms, or questions about these puzzles. Your continuing support for the Mind-Bending calendars and decks of Knowledge Cards produced by Pomegranate each year has made the publication of this book a reality and has been enormously gratifying to me.
So thank you—I hope you'll have fun with Volume I. Sharpen your pencils, and good luck!
—Terry Stickels
My nickname -
interes