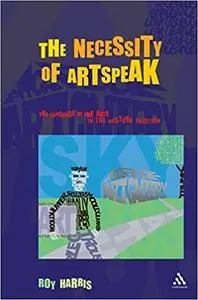 Roy Harris, "Necessity of Artspeak"
English | ISBN: 0826460798 | 2003 | 240 pages | PDF | 753 KB
Are contemporary art theorists and critics speaking a language that has lost its meaning? Is it still based on concepts and values that are long out of date? Does anyone know what the function of the arts is in modern society?Roy Harris breaks new ground with his linguistic approach to the key issues. He situates those issues within the long-running debate about the arts and their place in society which goes back to the Classical period in ancient Greece. Contributors to the debate included some of the most celebrated artists and philosophers of their day–Plato, Aristotle, Leonardo, Kant, Hegel, Wagner, Baudelaire, Zola, Delacroix–but none of these eminent figures or their supporters provided a reasoned overview examining the multilingual development of Western artspeak as a whole. Nor did they develop any explicit account of the relationship between the arts and language.The Necessity of Artspeak shows for the first time that what have usually been considered problems of aesthetics and artistic justification often have their source in the linguistic assumptions underlying the terms and arguments presented. It also shows how artspeak has been–and continues to be–manipulated to serve the interests of particular social groups and agendas. Until the semantics of artspeak is more widely understood, the public will continue to be taken in by the latest fads and fashions that propagandists of the art world promote.