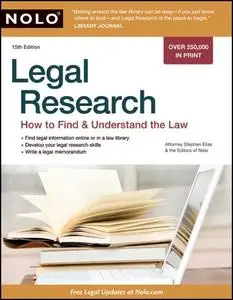 Legal Research: How to Find & Understand the Law, 15 edition by Stephen Elias Attorney, Editors Of Nolo
English | 2009 | 386 Pages | ISBN: 1413310524 | PDF | 9 MB
Legal research made simple!
If you're searching for information in a real or virtual law library as a paralegal, law student, legal assistant, journalist, or lay person, finding and accessing the laws that you need to read can be a challenge. Turn to Legal Research, which outlines a systematic method to find answers and get results.
In plain, readable English, Attorneys Elias and Levinkind explain, with plenty of examples and instructions, how to:
• read and understand statues, regulations and cases
• evaluate cases for their value as precedent
• use all the basic tools of legal research
• practice what you've learned with "hands-on, feet-in" library exercises, as well as hypothetical research problems
• and solutions
This easy-to-use and understand book has been adopted as a text in many law schools and paralegal programs. The 15th edition has been condensed to be more readable and includes an expanded discussion on the use of legal research tools on the web.
My nickname -
interes