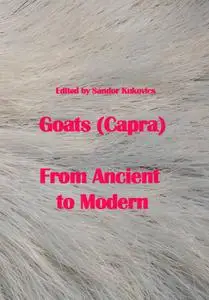 "Goats (Capra): From Ancient to Modern" ed. by Sándor Kukovics
ITExLi | 2020 | ISBN: 1838810536 9781838810535 1838810498 9781838810498 1838810544 9781838810542 | 177 pages | PDF | 35 MB
The present publication seeks to present the results related to the goat species.
Research and development in animal husbandry and products manufacturing are ongoing, and the results should be summarized from time to time and made available to the reader in order to increase their knowledge.
The first part of the volume contains the cultural history of the goat as well as chapters on the breeds kept and bred in Spain, USA, and Nepal. The second part covers the chapters dealing with Cashmere and Pashmina wool. In the third part of the volume, you can read about the differences between the different goat cheeses. The first chapter of the fourth part compares the drugs that can be used in the treatment of goat diseases, while the second chapter describes the parasites of the gastrointestinal tract (GIT).
Contents
1.Goats in the Ancient Near East and Their Relationship with the Mythology, Fairytale and Folklore of These Cultures
2.The Goat Sector in Spain: Situation, Local Breeds, and Production Systems
3.Local Goat Breeds in the United States
4.Breeds and Breeding System of Indigenous and Crossbred Goats in Nepal
5.New Look on an Ancient Fiber of Cashmere
6.Pashmina Goat Farming in Cold Arid Desert of Changthang and Its Impact on Economy of Changpa Nomads of This Region
7.Goat Cheese Quality in North Macedonia
8.Unique Pharmacokinetic and Pharmacodynamic Parameters of Antimicrobials in Goats
9.Goat Immunity to Helminthes
1st true PDF with TOC BookMarkLinks