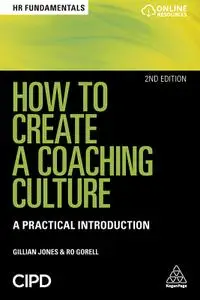 How to Create a Coaching Culture: A Practical Introduction (HR Fundamentals), 2nd Edition by Gillian Jones, Ro Gorell
English | September 3rd, 2018 | ISBN: 074948327X | 248 pages | EPUB | 3.15 MB
Management approaches and workplace culture help determine employee productivity, morale, talent acquisition and retention, and organizational adaptability. How to Create a Coaching Culture is a practical guide to embedding effective coaching behaviours within an organization to empower and engage employees to perform at their best. Using a combination of practical tools, assessments, case studies and examples, it provides guidance on how to plan and develop a strategy aligned to your organization and its goals, engage the board to secure 'buy-in', and how to effectively measure and evaluate initiatives in every stage of the employee lifecycle.
This fully updated second edition of How to Create a Coaching Culture contains new material on promoting employee engagement, reinventing performance reviews, and new and updated case studies from HarperCollins, British Airways and Leanintuit. Online resources include a series of downloadable templates and tools to use in practice, including a board report, communication strategy, development plan, and pre- and post-course training assessment.
HR Fundamentals is a series of succinct, practical guides for students and those in the early stages of their HR careers. They are endorsed by the Chartered Institute of Personnel and Development (CIPD), the UK professional body for HR and people development, which has over 145,000 members worldwide.
Enjoy
My Blog.
No any convert or low quality!