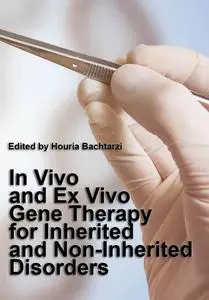 "In Vivo and Ex Vivo Gene Therapy for Inherited and Non-Inherited Disorders" ed. by Houria Bachtarzi
ITExLi | 2019 | ISBN: 178985718X 9781789857184 1789857171 9781789857177 | 183 pages | PDF | 10 MB
This book captures some of the scientific progresses notably in gene transfer technologies and translational development of in vivo and ex vivo gene therapy interventions in the treatment of a broad range of complex and debilitating non-inherited and inherited disorders such as: human immunodeficiency virus 1 (HIV-1) infection, cancer, cystic fibrosis, hereditary retinopathies, haemophilia B, cardiac diseases, and chronic liver fibrosis.
Ongoing advances in pharmaceutical biotechnology have paved the way to ground-breaking new biological therapeutic modalities, offering the possibility of a durable curative approach for a number of life-threatening diseases, for which the medical need is as yet unmet. Over the past decades, gene therapy has seen a massive transformation from a proof-of-concept approach to a clinical reality culminating in the regulatory approval of state-of-the-art products in the European Union and in the United States.
Contents
1.Nucleic Acid-Based Therapy: Development of a Nonviral-Based Delivery Approach
2.Gene Therapy for Cystic Fibrosis: Hurdles to Overcome for Successful Clinical Translation
3.Mechanisms for Controlling HIV-1 Infection: A Gene Therapy Approach
4.Functional Activation of Autologous Human Diabetic Stem Cells for Cell Therapy
5.Gene-based Interventions for Cancer Immunotherapy
6.AAV-Mediated Gene Therapy for CRB1-Hereditary Retinopathies
7.Adeno-Associated Virus (AAV)-Mediated Gene Therapy for Disorders of Inherited and Non-Inherited Origin
8.Gene Therapy for Cardiomyopathies
1st true PDF with TOC BookMarkLinks