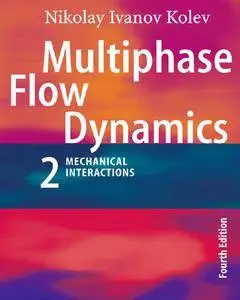 "Multiphase Flow Dynamics 2: Mechanical Interactions" by Nikolay Ivanov Kolev
Fourth Edition
Spr | 2011 | ISBN: 3642205984 9783642205989 | 371 pages | PDF | 4 MB
This monograph package contains theory, methods and practical experience for describing complex transient multi-phase processes in arbitrary geometrical configurations, providing a systematic presentation of the theory and practice of numerical multi-phase fluid dynamics.
Volumes 2 devoted to the important constitutive relations for mathematical description of the mechanical and thermal interactions.
The book is intended to be a useful source of information for students in higher semesters and in PhD programs.
Contents
Summary
Table of Contents
1 Flow regime transition criteria
2 Drag, lift, and virtual mass forces
3 Friction pressure drop
4 Diffusion velocities for algebraic slip models
5 Entrainment in annular two-phase flow
6 Deposition in annular two-phase flow
7 Introduction to fragmentation and coalescence
8 Acceleration-induced droplet and bubble fragmentation
9 Turbulence-induced particle fragmentation and coalescence
10 Liquid and gas jet disintegration
11 Fragmentation of melt in coolant
Index
with TOC BookMarkLinks