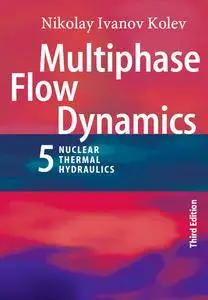 "Multiphase Flow Dynamics 5: Nuclear Thermal Hydraulics" by Nikolay Ivanov Kolev
Third Edition
Spr | 2015 | ISBN: 3319151568 9783319151564 | 911pages | PDF | 54 MB
Volume 5 contains information about the heat release in the reactor core, the thermal power and thermal power density in the fuel, structures, and moderator, the influence of the thermal power density on the coolant temperature, and the spatial distribution of the thermal power density, gives the methods for describing the steady and the transient temperature fields in the fuel elements. Demonstration of modern fuel designs is given.
The book is intended to be a useful source of information for students in the high semesters and in PhD programs.
Table of Contents
Nomenclature
Heat Release in the Reactor Core
Temperature Inside the Fuel Elements
The "Simple" Steady Boiling Flow in a Pipe
The "Simple" Steady Three-Fluid Boiling Flow in a Pipe
Core Thermal Hydraulics
Flow Boiling and Condensation Stability Analysis
Critical Multiphase Flow
Steam Generators
Moisture Separation
Pipe Networks
Some Auxiliary Systems
Emergency Condensers, Reheaters, Moisture Separators and Reheaters
Core Degradation
Melt-Coolant Interaction
Coolability of Layers of Molten Reactor Material
External Cooling of Reactor Vessels during Severe Accident
Thermo-Physical Properties for Severe Accident Analysis
Containment Thermal-Hydraulics
Subject Index
with TOC BookMarkLinks