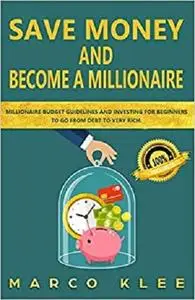 Save money and become a millionaire: Millionaire budget guidelines and investing for beginners to go from debt to very rich. by Independently published
English | September 10, 2020 | ISBN: N/A | ASIN: B08HVRTXTH | 51 pages | EPUB | 0.87 Mb
Special offer: Only for a limited time!
★★★
Why should I buy this Save money and become a millionaire instead of any other book about finances and investing?
★★★
The most important reasons:
You learn how to budget correctly in ordert hat a big amount of your salary will be left over at the end of the month.
You get to know savings tipps which will help you in any life situation.
You learn how you can save money in your every day life (with rent, going out, when cooking, hobbies, etc.
Already after one day of using the advice in this book you will have earned back the price you paid for this book.
You learn how you can invest money so that you will become a millionaire.
This book isn't right for you if you want to become a millionaire over night and you like to play with risky investments. The goal of this book is to invest money in a safe way and let it grow. With this book you will find a way to be financially independent in a few years and you won't have any troubles with your pension.
★★★ What else " Save money and become a millionaire" offers you:
✓ Practical savings strategies
This book doesn't contain any complicated or unrealistic savings tipps but we concentrate on practical strategies. You decide yourself in which areas of your life you want to improve. These longterm savings tipps will guide you directly toward financial freedom. On top of that, it doesn't matter whether you work at minimum wage or earn a big bonus every year.
Take charge of your financial future.
✓ Work with check lists and a budget plan
In this book you will get to know a useful app which will help you to get a detailed overview of your finances. Further, this book includes a check list with which you can work on problem areas step by step until you are rich. The budget plan shows you how much money you can spend in each category and how much money you will have left to invest.
✓ You can focus on what is important to you
With this book you receive the financial education which you might not have had at home or in school. No matter what you earn, it can't be that you have to worry about money. After reading this book you will be able to control your finances. Moreover you receive ideas how you can improve your income additionally. In the end, you have more time and money to focus on the things that are important to you. Whether you want to have more time with your family, for travels to foreign countries, more time for sport or the piece of mind to be able to turn your hobby into your job and become self-employed.
"Save money and become a millionaire" e-book categories
- save money
- get rich
- financial freedom
- financial independence
- millionaires
- passive income
- ETF and stock market
- real estate
- dividend stocks
- invest money
- budget guidelines



Feel Free to contact me for book requests, informations or feedbacks.
Without You And Your Support We Can't Continue
Thanks For Buying Premium From My Links For Support