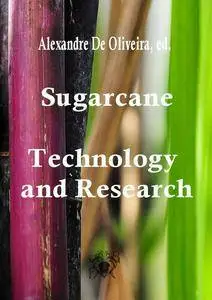 "Sugarcane: Technology and Research" ed. by Alexandre De Oliveira
ITExLi | 2018 | ISBN: 1789231515 9781789231519 1789231507 9781789231502 | 271 pages | PDF | 16 MB
This book intends to provide the reader with a comprehensive overview in technology, production, and applied and basic research of this bioenergy species, approaching the latest developments on varied topics related to this crop.
Sugarcane (Saccharum officinarum L.) is considered one of the major bioenergy crops grown globally. Thus, sugarcane research to improve sustainable production worldwide is a vital task of the scientific community, to address the increasing demands and needs for their products, especially biofuels. In this context, this book covers the most recent research areas related to sugarcane production and its applications.
The book is composed of 14 chapters, divided into 5 sections that highlight fundamental insights into the current research and technology on this crop.
Contents
1 Multi-Analytical Interactions in Support of Sugarcane Agroecosystems Sustainability in Tropical Soils
2 Sustainability of Ethanol Sector in Brazil: A Multicase Study
3 Sugarcane Production in China
4 Sugarcane Bagasse Valorization Strategies for Bioethanol and Energy Production
5 Competitive Management of Sugarcane Waste and Reduction of C02 Emissions from Harvest Burning in Supply Regions
6 In Vitro Propagation of Sugarcane for Certified Seed Production
7 Biotechnological Interventions for the Improvement of Sugarcane Crop and Sugar Production
8 Biotechnology of Drought-Tolerant Sugarcane
9 Mineral Nutrition and Fertilization of Sugarcane
10 Sugarcane: Organo-Mineral Fertilizers and Biostimulants
11 Mathematical Optimization Models in the Sugarcane Harvesting Process
12 Sugarcane Bagasse and Cellulose Polymer Composites
13 Sugar Versatility—Chemical and Bioprocessing of Many Phytobiomass Polysaccharides Using a Milder Hydrolytic Catalyst: Diluted Thermopressurized Phosphoric Acid
14 Sugarcane Bagasse As Potentially Low-Cost Biosorbent
1st true PDF with TOC BookMarkLinks