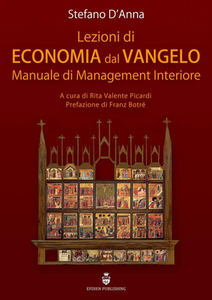 Stefano D'Anna - Lezioni di economia dal Vangelo. Manuale di management interiore (2015)
Italian | Efdien | 2015 | PDF | Pages 100 | ASIN: B00RY5JVV8 | 5 MB
Lezioni di economia dal Vangelo è il primo libro postumo di Stefano D'Anna. EFDIEN Publishing, la sua casa editrice, ha voluto questa pubblicazione, curata da Rita Valente Picardi, per onorare il desiderio di questo scrittore visionario di collezionare in un libro gli articoli e gli scritti, prodotti nel corso degli anni, che individuano in alcune parabole dei Vangeli e in brani tratti dalla Bibbia i fondamenti di un'Economia Etica, tanto invocata dal mondo del business contemporaneo e così magistralmente descritta nelle parole di 2000 anni fa. "Tutto è manifesto", e lo sguardo nuovo di Stefano D'Anna su un Libro antico lo dimostra. Lezioni di economia dal Vangelo amplia la visione, offre una proposta al mondo dell'economia. Il libro ripropone, in schema sinottico, la versione integrale dei Vangeli seguita dalla lezione dell'autore, schema editoriale che gli conferisce il valore aggiunto dell'eleganza e della bellezza.
Pe... in ITALIANO CLICCA QUI
>&... Blog Here <<<
If you like this release please support Developer / Publisher and BUY it.
If you'll find that my links are dead please let me know through the Private Messages.
Please DO NOT MIRROR