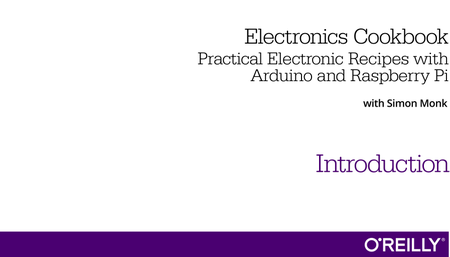 Electronics Cookbook
MP4 | Video: AVC 1920x1080 | Audio: AAC 48KHz 2ch | Duration: 7 Hours | 8.58 GB
Genre: eLearning | Language: English
Arduino and Raspberry Pi have been the saviors of the worldwide Maker movement for many years now, giving electronics hobbyists and inventors an amazingly accessible and low-cost platform to build out their prototypes. In this video, the prolific hacker, author, and not-evil-at-all genius Dr. Simon Monk cooks up a batch of easy-to-follow lessons that will give all inventive souls the ingredients they need to start baking their own makings. Based on material from his book by the same title, this beginner-level course explains basic electronics theory and basic electronic components; shows you how to use the Raspberry Pi single board computer and the Arduino microcontroller/programming environment; and then demonstrates how you interface the Arduino/Raspberry Pi combo to a broad array of things (e.g., sensors, LEDs, power supplies, integrated circuits, amplifiers, RF device, etc.) that will allow your inventions to sense things, make sounds, emanate light, send out radio waves, and more. Want to make stuff? This video shows you how.
Pick up the practical knowledge you need to build real-world electronic prototypes
Understand the basics of electronic theory, diodes, transistors, and power supplies
Learn how to use the Arduino microcontroller and the Raspberry Pi computer
Gain experience interfacing various input and output devices to Arduino and Raspberry Pi